For the fourth time in the last nine years, Wabash College's student newspaper, The Bachelor was named Newspaper of the Year by the Indiana Collegiate Press Association (ICPA).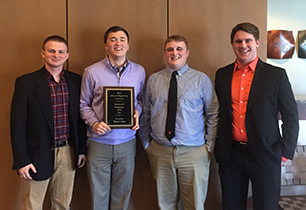 Twelve different staff members won nine first place awards, eight second place awards, and nine third place awards in Division III. Wabash won first place for, among others, Best Breaking News Story, Best Sports Story, and Best Overall Design.
"It's really great for our guys — and for Wabash — to be recognized and awarded the Division III Newspaper of the Year," Editor-in-Chief Cole Crouch '17 said. "With a staff of over 30, many of whom are underclassmen, I am excited for this group and its leadership moving forward."
The Bachelor won Newspaper of the Year in 2009 under Editor-in-Chief Patrick McAlister '10, in 2011 under Riley Floyd '13, and in 2014 under Scott Morrison '14.
The 26 overall awards included students from both the 2015-2016 staff and the 2016-2017 staff.
First place winners were Crouch, former Editor-in-Chief Adam Alexander '16, cartoonist Joey Dierdorf '18, Photo Editor Levi Garrison '18, former Cavelife Editor Joseph Reilly '18, and Sports Editor Tucker Dixon '19.
Receiving second or third place awards were Crouch, Dierdorf, Garrison, Reilly, News Editor Benjamin Johnson '18, Opinion Editor Ahad Khan '19, Copy Editor Ben Wade '17, former Photo Editor Colin Thompson '17, and staff writers Charles Frey '19 and Connor Armuth '19.
Division III papers in ICPA include non-daily newspapers from campuses of less than 3,000 students. Student writers and editors for The Bachelor receive no formal courses in journalism, whereas other college journalists receive classroom opportunities and journalism programs associated with their newspapers.
"Other schools may have student newspapers, but Wabash's is truly run by the students," Wade said. "Students find the stories, take photos, lay out the paper, and hold each other accountable without faculty or staff having to look over their shoulders. That's what makes this award that much more satisfying."
The Bachelor finished with 52 points to edge out Goshen College with 46 points. Anderson University finished in third place with 29 points. DePauw University did not place.
In addition to the stories that were honored with awards, Reilly's entry for Special Section Front/Cover "Portal to Hell?" from the 2016 issue of The Bastard received high remarks from a judge.
"I'm sure I don't get 80% of the inside jokes here, but the April Fool's section was still hilarious," the judge said of the page. "But what makes this entry really great was the attention paid to the details. From the section flag name to the small promos at the bottom, no element was left unturned in the quest for humor. A well-designed and fun page."
ICPA First Place Winners
Best Breaking News Reporting
Adam Alexander '16, "Gifts Officer Takes Own Life After Zionsville Homicides."
Best Editorial Cartoon
Joey Dierdorf '18, "Wally Wisecracks."
Best Illustration
Levi Garrison '18, "Monon Village."
Best Opinion Column
Cole Crouch '17, "Not Fear, But Solidarity."
Best Overall Design
2015-2016 Staff, "April 8 Issue."
Best Photo Essay/Picture Story
Levi Garrison '18, "A Shout for Drag."
Best Special Section Front/Cover
Joseph Reilly '18, "Portal to Hell?"
Best Sports News Story
Tucker Dixon '19, "Gashing the Gators."
Best Staff Editorial
2016-2017 Staff, "Staff Editorial."
ICPA Second Place Winners
Best Continuous Coverage of a Single Story
Charles Frey '19, "Wallies Engage Men's Mental Health Pt. I-III."
Best Front Page
2015-2016 Staff, "Election 2016 at Wabash."
Best Illustration
Levi Garrison '18, "Digesting Food Problems at Wabash College."
Best Informational Graphic
Levi Garrison '18, "Indiana Races to the Capitol Building."
Best News or Feature Series
Patrick Bryant '16, "Wallies Behind the Indy 500."
Best Non-Deadline News Story
Cole Crouch '17, "Fraternities Institute Hard Alcohol Policy."
Best Single Issue
2016-2017 Staff, "September 16 Issue."
Best Sports Column
Tucker Dixon '19, "Making History."
ICPA Third Place Winners
Best Editorial Cartoon
Joey Dierdorf '18, "Wally Wisecracks."
Best Entertainment Column
Benjamin Johnson '18, "Wallies Visit the Holy Land."
Best Feature Photo
Levi Garrison '18, "20 Fulfills Right of Passage."
Best Informational Graphic
Joseph Reilly '18, "Deans, Students Discuss Safety on Campus."
Best News Photo
Colin Thompson '17, "Unthinkable Tragedy."
Best Opinion Column
Ben Wade '17, "Be Better Than That."
Best Special Section Front/Cover
Benjamin Johnson '18 and Ahad Khan '19, "President of the K.C. Reserve to Speak."
Best Sports Page
Connor Armuth '19, "Hope Lies Ahead."
Best Staff Editorial
2016-2017 Staff, "Call for Campus Unity."