Indiana's role as a hotbed for entrepreneurship was spotlighted on April 1, as Wabash College hosted its sixth Entrepreneurship Summit.
Scheduled for 9 a.m. to 3 p.m. at the NCAA Hall of Champions in Indianapolis, the Summit hopes to spur the entrepreneurial drive by highlighting the resources available at Wabash College, and in Central Indiana as a whole. Entrepreneurs and students from 18 colleges from across the state attended.
"The focus of this year's Summit was Emerging Technology, from Electric Motorbikes to 3D-Printed Cars. The goal is to shine a spotlight entrepreneurship and encouraging students to think about the multiple paths to success that exist at Wabash." said Steven Jones, '87, Dean for Professional Development. "Through the Center for Innovation, Business & Entrepreneurship, Wabash College is leading the conversation in entrepreneurship and serving as a resource for new and innovative ideas," Jones commented.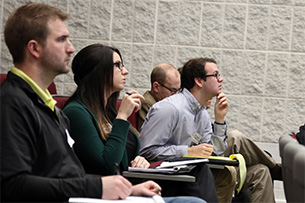 Indiana Secretary of State, Connie Lawson's opening remarks begin a morning program that features an opening keynote address by Josh Rasmussen, Found & CEO of Monday Motorbikes in Los Angeles.
This will be followed by six break-out session speakers: Tony Unfried, '99, Founder & CEO of Archon Tech Strategies; Ruchir Sehra, '88, Founder & CEO of Resonea, Inc.; Wesley Virt, '17, Founder of Vionix Academy; John Qualls, President of 1150 Academy; Tony Scelzo, Chief Revenue Officer of Healthstatus.com.
The second keynote will be delivered by David Woessner, '01, General Manager of Local Motors. Woessner will talk about his journey from Wabash to Washington: How a Country Kid from Indiana Found Tech.
The afternoon session includes a panel discussion moderated by Jim Dreher, '85, a medical device entrepreneur, who is Founder and Managing Partner at Option3 LLC., and Co-Founder of Hotspur Technologies, Inc.
The Summit, hosted by Wabash President Gregory D. Hess, routinely draws attendees from Chicago to Indianapolis.
Attendees will be provided breakfast and lunch. Transportation will be provided to and from the event to all Wabash students on Saturday.
Registration is required. Tickets may be reserved here until Thursday, March 30th, at . The event is open to any college or university student in Indiana.
Look for the event on Twitter: @WabashCIBE #WabashES6.