Never has science been delivered so humorously.
What happens when comedians are tasked with discovering the research pursuits of a secret scientist? That's the premise behind the popular podcast "You're the Expert," as it makes a Wabash College appearance at 7 p.m. on Friday, Feb. 10, in the Fine Arts Center's Ball Theater.
"You're the Expert" bridges the gap between the Ivory Tower of academic research and your iPhone. Hosted by comedian Chris Duffy, the show uses a myriad of games, sketches, and hilariously misguided guesses as three comedians attempt to discover what a scientist does on a daily basis.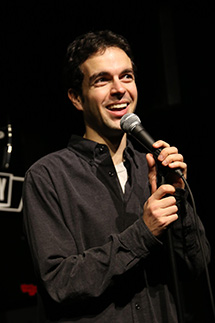 As the show progresses, the audience hears about the current findings and why such study is important. "You're the Expert" links the scientific community with comedy in a show that is laugh-out-loud funny and thought provoking, the perfect interdisciplinary event for the Wabash College community.
In addition to Duffy, comedians Charlie Hankin (cartoonist for The New Yorker), Matt Porter (Comedy Central's New Timers), and Shalewa Sharpe (stand-up special "Stay Eating Cookies") are scheduled to do the sleuthing on this edition of "You're The Expert." Further, Duffy also will host a lunchtime talk for faculty members on Feb. 10 about using comedy in the classroom.
"We are thrilled to bring this hilarious, dynamic, and informative show to Wabash," said Drs. Sara Drury, Jessie Mills, and Laura Wysocki, the organizing committee representatives. "Sponsored by multiple committees across campus, this event celebrates the arts, sciences, communication, and all things interdisciplinary. You'll laugh your way to learning."
"You're the Expert" is being brought to Wabash College with support from the Lecture & Film Committee, Visiting Artist Series, Wabash Democracy and Public Discourse, and the National Science Foundation." The Visiting Artist Series is funded in part by the Indiana Arts Commission, Tippecanoe Arts Federation, and the National Endowment for the Arts.
Tickets for the Friday evening event are free, but required. Reserve your tickets online or via phone 765-361-6411. If not sold out, tickets will also be available at the door the night of the show.