Borinstein '19 Dies in Plane Crash
by Jim Amidon • August 13, 2016

Share: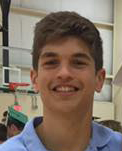 A Wabash man known for his "eagerness to do good" died Friday in a small airplane crash in Fredericksburg, Virginia. Luke Joseph Borinstein, a 19-year-old sophomore, was among six people who died in the crash.
His mother, Lisa, and younger sister, Emma, were also killed. He is survived by his brothers, Drew and Beau.
A Celebration of Life will be held on Tuesday, August 16, 2016, at 6:30 p.m. at Triton Central High Gymnasium, 4774 W 600 N, Fairland, IN 46126. A fellowship gathering will immediately follow. Pastor Paul Romoser will be officiating. Burial will be at a later date in New Palestine Cemetery.
In lieu of flowers, donations will be accepted to the Drew and Beau Borinstein Scholarship Fund, C/O Erlewein Mortuary, 1484 W US 40, Greenfield, IN 46140. Friends may share a memory or send a condolence at www.erleweinmortuary.com or email condolences to
sympathy@erleweinmortuary.com
.
Luke was pursuing a pre-health track at Wabash, and had just returned from a two-week immersion trip to Lima, Peru with the Global Health Initiative (GHI), which is directed by Treves Professor of Biology Eric Wetzel.
"Luke was just a great guy — intelligent, easy-going, strong in his faith, and very friendly," said Dr. Wetzel. "Along with some other students on the trip, he easily and quickly made some great new friends among the Peruvian students with whom we worked and traveled."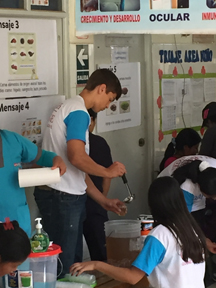 Wetzel said that news of Luke's death had already reached the Peruvian students. "They are equally distraught and saddened, perhaps a testimony to the impact that Luke could make in a short time."
"All of us at Wabash are shocked by this tragic news and grieve with Luke's family and friends," said Wabash President Gregory Hess. "Wabash is a very special place where deep friendships are formed, and our hearts go out to all of Luke's Wabash brothers."
Senior Bilal Jawed, who leads the College's Public Health Organization (PHO), said, "Luke was an indispensable part of our organization, and I will always remember him by his bright smile and eagerness to do good."
Borinstein came to Wabash from Fairland, Indiana, and attended Triton Central High School. In addition to his work with the GHI and PHO, he also spent free time tutoring students at Hoover Elementary School. He had spent the first part of his summer working in the lab of biology professor Anne Bost.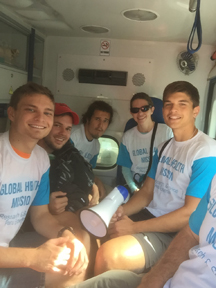 Wetzel said he was a natural fit with the goals of the Global Health Initiative.
"My sense from chatting with him is that he 'got it' — he understood the disparities in health care and access to it, and was pleased with how we were able to contribute to addressing these problems," Wetzel said. "He was appreciative of the opportunity.
"He will be sorely missed by the class."
Police and authorities from the National Transportation Safety Administration are investigating the cause of the crash of the 1969 Beech 95-B55 twin-engine, fixed-wing airplane.