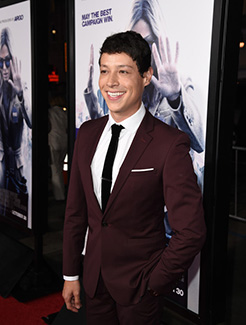 Wabash College will present a movie screening and discussion by actor and Wabash College graduate, Reynaldo Pacheco. The screening of Our Brand Is Crisis will begin at 7 p.m., Saturday, February 20 in Korb Classroom in the Fine Arts Center.
Pacheco, which starred alongside Sandra Bullock, Billy Bob Thornton, and Anthony Mackie in Our Brand is Crisis, graduated from Wabash in 2006. Pacheco was active in Wabash theater productions and The Vanity Theater. Pacheco has had other acting roles including the 2010 film, Beginners, alongside Christopher Plummer and Ewan McGregor, and a guest-starring spot on CSI: NY.
Pacheco was born and raised in La Paz, Bolivia. At the age of 13, he joined a theater group at La Salle High School under the direction of Franz Conchari. While studying in Brilliant, OH at the age of 17, he produced his own play and joined the musical theater group at Jefferson County Christian School. He went on to the Universidad Catolica Boliviana to study business and also join an acting troupe. He later joined La rodilla del telon, a gypsy troupe of street performers on the colonial side of La Paz, and later became one of the lead performers at the Philharmonic of La Paz, Bolivia.
Realizing that his passion was overpowering his business studies, he left Bolivia and started his education at Wabash College, where he graduated with a BA in French and theater with a political science minor. While a student at Wabash, Pacheco traveled abroad to study film, acting, and photography at the Nanterre Universite and Sorbonne Universite. He later studied theater history and writing in immersion trips to London and Ecuador. In 2006, he was one of ten students accepted to the Masters of Fine Arts in Acting Program at the University of Southern California, where he graduated in 2009.
Pacheco's talk is free and open to the public.