16th Annual Celebration Friday
by Richard Paige • January 26, 2016

Share:
Student-centered research comes front and center on Friday as Wabash College hosts the Celebration of Student Research, Scholarship, and Creative Work at 1 p.m. in Detchon Center's International Hall.
Now in its 16th year, the Celebration spotlights the best our campus has to offer across all disciplines – the arts, sciences, and humanities – all in one space. Scientists, rhetoricians, and artists stand shoulder to shoulder all supporting each other and the multi-discipline strength of the liberal arts.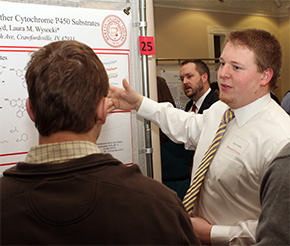 "Close collaboration between Wabash students and faculty across the College is a hallmark of our culture, a labor of pedagogy and love that makes a difference for our students," said Dr. Scott E. Feller, Dean of the College. "It is a special pleasure to introduce some of the results of that collaboration in these presentations. Our thanks go to the students who are prepared to teach the Wabash community about their good work and to the faculty and staff members who have devoted considerable time helping students in their research and creative productions."
A total of 90 students will present 41 talks and 32 posters during the three-hour event. Click here for the program and schedule.
By faculty vote, classes are canceled on this afternoon so that all members of the community may attend. Students, faculty, staff, members of the Board of Trustees, Board of Directors of the National Association of Wabash Men, and the general public strongly support this event.