It wasn't difficult to find the Little Giant standouts in a workman-like 35-0 win Saturday over Kenyon. The usual suspects of Wabash defense and Mason Zurek's powerful running were too much for the Lords. But two tall freshman wide receivers made heads turn.
Wabash (6-0, 5-0) struggled offensively in the first half and went to the locker room up 7-0 over the 2-5 visitors. Quarterback Connor Rice heated up in the second half with two freshmen wide outs who combined for 9 catches for 105 yards and a touchdown.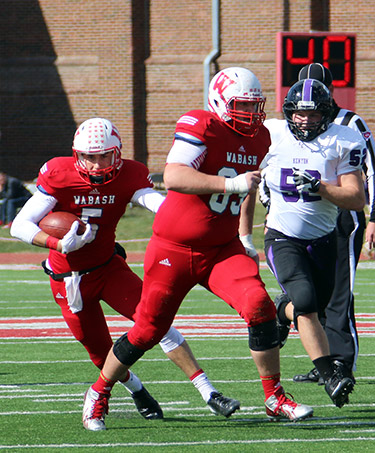 Oliver Page, a 6-foot, 4-inch, 205-pound receiver from Saint Joseph's HS in South Bend, led Wabash with five catches for 67 yards and a touchdown. Ryan Thomas, another 6-4 pass catcher from Martinsville, had 4 receptions for 38 yards.
Page's 24-yard, fourth-quarter score closed out the game. "We kind of deviated from the plan a little bit," the freshman said of his first-career touchdown. "But Connor (Rice) did a good job of getting out of the pocket and I guess improvised a little bit. He had a nice throw, right on the money which made it easy for me."
Coach Erik Raeburn said the team hasn't been as sharp passing the ball in recent weeks and he wanted to give the youngsters a shot at more playing time. "Obviously, they're freshmen but we think they're really talented receivers and have the potential to be great players," the coach said. "I thought both of them responded pretty well."
Wabash started fast scoring the first time it had the ball. Senior receiver Matt Dickerson took a Rice handoff and rushed for 20 yards. Zurek then ran 33 more to set up Rice's 7-yard score, 7-0. But 7 first-half penalties killed Wabash until halftime
"In the first half we had a ton of penalties, which we hadn't done this year," Raeburn said. We have done a great job this season of not committing penalties but today it felt like we had 20 of them. Defensively, we played well and offensively I thought we played really well in the second half."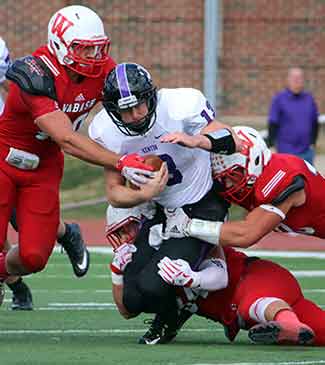 Wabash's first possession of the second half told the story. Zurek rushed four times while Page caught two Rice throws and Thomas hauled in an 18-yarder. Rice found Drake Christen open in the end zone for a 5-yard score, 14-0.
Wabash built momentum into the final quarter with a Shamir Johnson 12-yard touchdown run. Then moments into the final period Zurek broke his second long run in two weeks with a 51-yard dash, 28-0. Page's touchdown catch five minutes later ended the scoring.
Wabash dominated statistically with 577 yards of offense to the Lords' 213. The Little Giants rolled to 357 yards rushing while holding Kenyon to 47.
Individually, Zurek's numbers jumped off the page with 15 carries, 194 yards, one touchdown, and an average 12.9 yards per rush. Six other Little Giant ball carriers gained 20-or-more yards on the day.
The two freshmen led all receivers, as noted, with six other Little Giants getting no more than one or two catches.
Kenyon rolled their quarterback out on all but one or two snaps of the day but Wabash still managed three sacks and numerous pressures in the backfield.
"We just had to keep coming and keep playing hard then go out and be physical in second half," said Connor Ludwig, who led Wabash with 11 tackles, 1 sack, and 2 tackles for loss. "We knew they do a lot of funky things with their offensive line, a lot of big personnel and stuff. Usually every week teams comes out with something new we haven't seen. Tor most part, we adjusted pretty well to everything they had."
A.J. Clark had nine stops while Brian Parks and Austin Brown added 8 stops apiece. Delon Pettiford had six tackles while Connor Karns and Evan Rutter each six tackles.
Wabash travels to Wooster next weekend while the Lords have a bye week before hosting the Scots Oct. 31.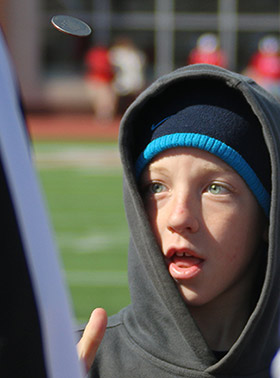 Special Kid; Special Moment
"Carter Swathwood, at the age of 5 was rushed by helicopter to Riley Hospital for Children after contracting the H1N1 flu. He was in respiratory failure and needed more help that what the local hospital was able to give him. Carter spent a week at Riley and is now a thriving 11 year old.
Carter served as an honorary team captain for the Little Giants Saturday and helped conduct the coin toss to start the game.
Carter served as a 2014 Riley Champion and has raised over $13,500 for Riley Hospital in 3 short years."