Blue Catfish Path for Flock '16
by Richard Paige • January 29, 2015

Share:
For Travis Flock '16, the blue catfish became the perfect pathway into the real world of science.
Eight months ago, the Mooresville, IN, native was just beginning his work as an intern at the Smithsonian Environmental Research Center (SERC), tracking the invasive species as part of a long-term study to aid in future management strategies. Last Friday, he was in Detchon Center presenting his findings to peers and professors at the Celebration of Student Research, Scholarship, and Creative Work. The journey has been invaluable for Flock.
"This experience taught me how to be a scientist," Flock said. "SERC really taught me how you do these things and the kinds of work it demands. You aren't in the lab, you are outside working on this stuff; it's completely different work. It taught me not only how to conduct research, but how to present."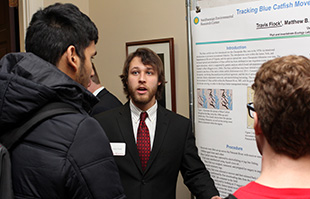 The learning began immediately, as Flock was introduced to fieldwork, where the conditions can be the opposite of the pristine environment found in laboratories. According to Dr. Matthew Ogburn, SERC Research Scientist and Flock's primary investigator, it isn't for everyone.
"Fieldwork requires the type of person who doesn't mind being outside on a boat for long hours under any kind of conditions," he said. "We get hot, wet, muddy, covered in fish scales, and bitten by mosquitos and flies, but have a fun time doing it. Generally, it takes someone who loves being outdoors, is meticulous yet hardworking, and who is self-motivated."
After embracing fieldwork, blue catfish movement became the focus for Flock, as he continued work on a study to find and use data that could aid species management strategies in the future.
Between research stations roughly 800 to 1,000 meters apart, Flock looked at how the fish moved and their range of mobility. He also investigated the speed at which they traveled from station to station. It was found that some blue catfish could cover a kilometer in less than two hours. "Those things could really, really move," he said. "We were surprised by that."
His efforts were bolstered when he inherited a big dataset from the previous year that had yet to be analyzed. That opened up the possibility for deeper connections.
"Processing the data was really interesting," Flock said. "Wow, to be one of the first people in the Maryland-Virginia area to actively look at data on blue catfish movement was pretty humbling."
What Flock saw in the data were fish that covered more than 200 kilometers from December to July – from the northernmost stations almost to the mouth of the river in the Chesapeake Bay. In terms of management, blue catfish were incredibly mobile, which could be the key behind their impact on the watershed.
"There were some good findings in how much they can move," said the biology major. "That was important data. We showed that they were moving the entire course of whatever river we were in. The movement may be the big component as to why they are so invasive."
Flock was able to return to campus and to continue crunching numbers. It was not simply gathering and analyzing data and building the correct charts and graphs. Statistical tests – linear regression and significance tests to be specific – were necessary to prove the validity and strength of the data.
"It's an interesting result because it wasn't what we expected," Flock said, "but it can't be taken lightly. There is nothing stopping them from moving, therefore, it's not going to take that long to move large distances. If this data continues for the next two years, then it will give us a much clearer picture of the fish, how far it can travel, and how this might effect a management strategy for the entire species."
Those findings came with a sense of relief for Flock. After a long consultation with Dr. Ogburn, they proved that he had read and interpreted the data correctly. It also capped a time that had seen him working with the data deep into the fall semester.
"It was so worth the wait," Flock explained. "It's an affirmation of reading the data correctly. I feel like we turned the corner toward our conclusions and are using those to help guide the rest of the study."
While the study will continue under SERC's guidance for two more years, Flock's attentions have turned to other projects. Following his presentation Friday, he looked back on his experiences and felt good about the results.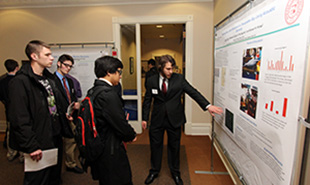 "Having worked up to this event for so long, it's good to present this. It's nice to see as many people as I have come up and ask about this project," he said. "That's a very good feeling. Over the course of this project, I have become pretty passionate and interested in what I was doing. It's nice to share that interest."
Flock feels the work he's done – from the tributaries of the Chesapeake Bay to the floor of Detchon Center – has helped him to enter the professional academic world, an entry that might have waited until graduate school if not for SERC and the Celebration of Student Research, Scholarship, and Creative Work.
Flock already has his eyes open to whatever opportunities await. After a summer on the water, he's hoping to diversify his portfolio with new and different challenges.
"I want to gather as many experiences as I can between land, water, or beach, figure out in what kind of environment I most like to work, and then identify what kind of projects are out there for me."