Nine Wabash students had very different internships—from automobile quality control to tracking catfish to assisting with cancer research. But for all nine, the experience opened their eyes to different paths and new possibilities for their liberal arts educations.

"Milestone Skill Development Opportunity"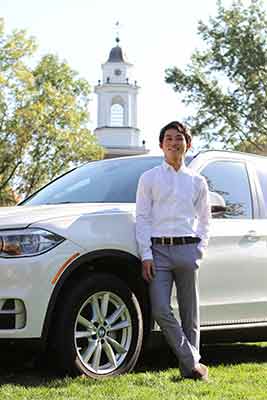 As a member of P3 North American's Quality Assurance Team, Seine Yumnan '17 monitored two assembly lines at BMW's manufacturing center in Greer, SC, where the company's X5 luxury SUV is built.
"My reports and analyses were the foundations of the decisions the task force would potentially make," the sophomore economics major explains. "I designed a project management concept for one of the entities in the supply chain for the X5, went forward with it, and saw the results with my own eyes—a valuable contribution to BMW and a moment of satisfaction for me.
"This was a milestone skill development opportunity. I have acquired significant knowledge of how to effectively interact with clients, understand their needs and problems, and offer solutions."
Seine internship through the Schroeder Center for Career Development was funded by the Small Business Internship Fund.
More Than Logos and Jingles
While working on a new product launch for the Adorant Group, Ben Shank '16 discovered two interesting facts: Marketing is more than logos and jingles, and personality types matter.
"I now see marketing as gaining an understanding of your current surroundings and peers and then identifying the need," Shank said. "That insight is valuable as I pursue a career in business and finance."
A Myers-Briggs personality test—he's an ENTJ (Extraverted, Intuitive, Thinking, Judging), a natural-born leader—showed him the benefits of recognizing how differences in personality types may affect purchasing decisions.

Tracking the Invaders
Travis Flock '16 joined a Smithsonian Environmental Research Center team studying the movement patterns of the blue catfish, an aggressive invasive species in the Chesapeake Basin. The team used a technique called electrofishing to stun and more quickly net and implant small acoustic tags in the catfish to track them. By monitoring the fishes' migratory patterns, the scientists hope to develop a more focused management strategy.
"Electrofishing was honestly so cool," says Flock. "All we had to do was dial the frequency up or down for each fish type.
"You'd have all these species of catfish coming up within a 50-foot radius of the boat. The first time I did it, I was shocked. I thought we'd get just 10 fish to float up and net. But there were fish everywhere. It was amazing to think how much really is in the water. There is so much around you that you don't even see."
Flock's internships was funded by the Biology Department.

Keep Your Options Open
"I've always been interested in the deep sea," says Jingwei Song '15, who plans to be a marine biologist and spend the summer at the Virginia Institute of Marine Science in Gloucester Point, VA. "It was eye-opening to listen to my mentor, Dr. Jan McDowell, and other faculty talk about this field.
"Originally, my goal was apply to a PhD program right after college. After talking to graduate students and VIMS alumni, it might be a better idea to find a job, or even volunteer in a lab for a year or two, before making that commitment."

Song's internship was funded by the Virginia Institute of Marine Studies.

Evolving in the Laboratory
Dr. Tom Roberts '70, chair of cancer biology at the Dana-Farber/Harvard Cancer Center in Boston, MA, inspired and mentored Ivan Koutsopatriy '16.
"Early on, I was struggling in the lab, and he offered some advice for how to keep up and evolve my capabilities," Koutsopatriy recalls. "He, along with my advisor and postdoc, allowed me to experience what it is to be a research scientist.
"I spent almost all of my time in lab, and was there almost every single day. I had no idea how challenging this was going to be. I went to bed looking forward to my time in lab the next day.
"The more I learn and experience cancer biology, the more I enjoy this field."
Koutsopatriy's internship was funded through the Schroeder Center through a Dill Grant.

"Rejuvenated"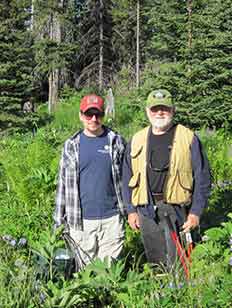 Wes Hauser '15 spent most of June conducting preliminary research with Wabash Professor Amanda Ingram on Indiana's elusive wild orchid population.
The rest of his summer he worked alongside Dennis Whigham '66, senior botanist at Smithsonian Environmental Research Center (SERC) on projects in Homer, AK. The research focused on nutrient flow within headwater streams and watersheds. He also worked with wild orchid populations in Alaska.
"I traveled all around the Kenai Peninsula and reconnected with the reason I wanted to do ecological research in the first place," Hauser says. "By exploring the complex and beautiful natural environments my research might benefit in the future, I felt rejuvenated and passionate again.
"I reconnected with the reason I wanted to do ecological research in the first place."
Hauser's internship was funded through SERC and the Wabash Biology Department.
Whigham was impressed with Hauser's work: "He and I interacted daily during the almost three weeks that I was in Homer, but after that he had to do a lot based on his own initiative. The data he sent me are very exciting and will help with the story that is emerging of the watershed-stream-wetland-fish interactions. He is a very talented student and I hope that the combination of internships will enable him to make informed decisions about his future."

"A Wild Ride"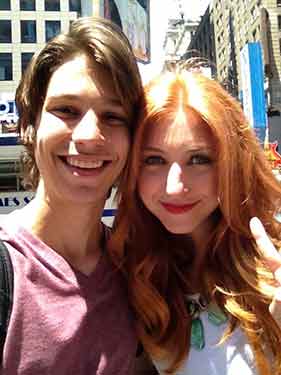 "Actors have the easiest job in theatre," Zach Canon '16 says after a summer learning all aspects of production at the New Ohio Theater in New York City. "As someone who wants to act for a career, I learned that, despite culture's fascination with actors and actresses, the unsung heroes of theatre and film truly are the tech crew.
"New York is abundant with opportunity. I've had coffee with an executive assistant at Showtime, acted in a Project Greenlight submission co-directed by an individual who works at Tribeca Film, connected with a Tony Award-winning Broadway producer, and made wonderful friends at Redeemer Church in Midtown.
"This has been a wild ride."

Only in New York: Canon met Morgan Smith Goodwin (right), spokeswoman for Wendy's, and even sang karaoke with her.

"Filling the Cracks"
Seton Goddard '15 worked with the development arm of the not-for-profit Legal Aid Society in Louisville, KY, whose executive director is attorney Jeff Been '81.
"This internship gave me the opportunity to work on a wide variety of projects," Goddard says. "As someone who believes that building strong communities starts with filling the cracks that many of us helped to create, I was thankful to be a part of an organization that works every day to fill in those cracks and assist the most economically disadvantaged among us."
Goddard's internship was sponsored by the Small Business Internship Fund.

"A New World of Research"
As a research intern, Charles Wu '15 assisted with data collection, participant recruitment, and data analysis. But he also contributed ideas to the design of his particular study and reflected upon how it fit into the bigger picture of research in his field
"I met brilliant psychologists, linguists, and computer scientists hailing from across the country and had excellent discussions with them at our weekly seminars," Wu says. "I developed friendships with my peers who have similar goals and dreams for the future—to understand language as a cognitive system. The interdisciplinary nature and connection with cutting-edge technology really opened my eyes to a whole new world of conducting research.
"The interdisciplinary nature and cutting-edge technology gave me fresh perspectives in the field of psychology."
Wu's Wabash advisor and mentor Professor Neil Schmitzer-Torbert sums up the benefits of both on-campus and off-campus internships: "Internships are an ideal preparation for Wabash students, whatever their career interests may be. They make use of the close mentorship of the Wabash community, but also provide an experience outside of our campus."
Wu's internship was funded by Stanford University.