Two years ago, Allegheny came to Crawfordsville and stunned Wabash, 20-17, in overtime. Since that loss, the Little Giants have outscored the Gators 128-0. Wabash defeated Allegheny 63-0 Saturday in its 94th homecoming game. Last year the Little Giants won 65-0 in Pennsylvania.
"I wasn't here for that loss, but I know that any time we get beat at home, it's a big deal," first-year starting safety Austin Brown '17 said. "I just fed off the energy of the older guys — they remembered it and weren't happy about it."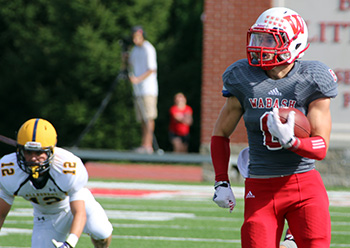 The Little Giants were having none of last week's slow start. Wabash jumped to a commanding 21-0 first-quarter lead. Brown started the rout with a 48-yard interception return for his first-career score.
"Cody Buresh '15 made that one pretty easy for me," Brown said. "He tipped it, and then blocked for me on the return. It was kind of a walk into the end zone, but it was really fun scoring my first touchdown."
After the Brown return, Michael Putko '16 scored on a two-yard run, then Tyler Holmes '14 busted through tackles on a 34-yard run.
"I thought we had the type of intensity that we need to see out of our guys that we were lacking in the first quarter last week," Coach Erik Raeburn said, referring to his team's 31-12 victory. "The big difference was that we came out and played with the type of intensity that we need to play with every week. We came out with that right from the get-go and didn't wait until the second quarter."
The Little Giants duplicated their 21-point quarter again in the second 15 minutes of play. Putko hit Drake Christen '17 for a 30-yard touchdown, then found Matt Dickerson '16 on a 61-yard pass down the middle of the field. It was Dickerson's first-ever visit to the end zone. Holmes scored his second touchdown from four yards out as Wabash entered halftime leading 42-0.
Holmes ran 11 times for 138 yards. Wabash outrushed Allegheny 354 yards to negative six. The Little Giants had 614 yards of offense compared to the Gators' 105.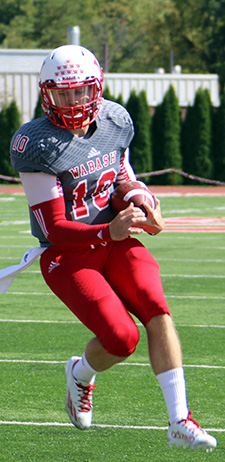 Putko hit 8-of-16 for 172 yards, two touchdowns, and an interception. He also had a rushing touchdown. Putko made the start and played just the first half and a series in the second. He got nicked up last week at Denison.
"He took a lot of hits so he was hurting a little bit early in the week," Raeburn said. "Hopefully by next Saturday, he'll feel good physically. He got banged up last week, but showed some toughness."
Wabash used lots of the younger roster players in the final 30 minutes. Backup quarterback Connor Rice '17 threw his career's first touchdown pass when Christen took a short screen 77 yards to make it 49-0. Christen finished with five catches for 153 yards and two touchdowns.
In the fourth quarter, running backs Richie Estrada '18 and Shamir Johnson '17 tallied their first touchdowns on six- and four-yard runs, respectively.
"I was really impressed with our tight ends Jim Walsdorf '15, Matt Thomas '18, and our entire line in that second group," Raeburn said. "Logan Goodrich '15, Garret Lynette '15, and Jake Thompson '16 were also out there; the other guys were freshmen. I was really pleased with how we blocked up front for Shamir and Richie."
While the offense scored the points, the Little Giant defense continued to hold the Gators. AJ Akinribade '15 and Buresh led the Little Giants with eight tackles. Buresh added a sack, helping Wabash take down the Gator quarterback six times. Allegheny punted the ball on 12 occasions, which tied a Wabash record for forced punts in a game.
Wabash had flawless execution on special teams. Andrew Tutsie '17 converted all nine of his point-after attempts, tying a record for most extra points in a single game. The complete-game dominance made the victory one of the Little Giants' best wins in the young season.
"We weren't as sharp (against Hampden-Sydney) as we were today, but that was an impressive win right out of the gate," Raeburn said. "I thought we were better on special teams today than we were in that first game. I also thought we threw the ball better today."
Wabash will stay in Hollett Little Giant Stadium at 1 p.m., Saturday, playing Wooster. The game will be free of charge to everybody for Community Day.