Liberal arts education is alive and needed now more than ever before. That was the resounding sentiment when more than 100 college presidents, administrators, foundation leaders, and representatives from business, law, medicine, and politics gathered at the Indiana State Museum to celebrate and comment on the value of liberal arts education.
The conference was hosted by Wabash College and the Center of Inquiry in the Liberal Arts, and featured highlights from the Wabash National Study of Liberal Arts Education.
"It's fun to celebrate liberal arts education, but I've come to celebrate the Center of Inquiry," said Robert Connor, former President of the Teagle Foundation. "The Center has been a huge benefit, not only for private liberals arts colleges, but, as you can see from the summary of results, much more broadly for higher education."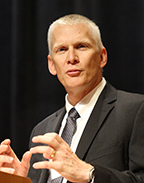 Founded in 2000, the Center of Inquiry's focus on using evidence to identify the basic qualities that promote liberal arts education and to measure learning outcomes drove the Wabash National Study, which followed 17,000 students at 49 different institutions through their four-year college experience.
The Wabash Study identified three qualities that lead to positive learning outcomes within the liberal arts: good teaching and high quality engagement with students; challenge and high expectations that lead to higher order intellectual challenge; and students' meaningful interactions with people and different from themselves and ideas different than their own.
Center of Inquiry Director Charles Blaich and his associate, Kathleen Wise, said that the Center's goal is to strengthen liberal arts education wherever it occurs.
"The research shows that good teaching is at the heart of effective liberal arts education," said Wise. "We have to make these practices more pervasive at our institutions. The type of institution matters less than how often students encounter these good practices."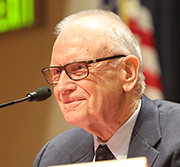 The qualities of the liberal arts — critical thinking, moral reasoning, intellectual curiosity, and leadership — were highlighted at the conference and celebrated by graduates of liberal arts colleges from all over the country.
"The liberal arts cultivates imagination, lengthens perspective, sobers judgment, defines taste, broadens sympathies, and builds self-confidence and the willingness to take on responsibility," said Lee Hamilton, a DePauw graduate who served in the U.S. House of Representatives for 34 years. "I think liberal arts education is phenomenally important," said Congressman Hamilton. "I think it's practical; it leads to good employment, promotion, and leadership positions in all kinds of organizations."
In addition to highlighting the findings from the Wabash National Study, the conference featured panel discussions on leadership, ethics and diversity, innovation and lifelong learning, and opportunities for liberal arts colleges in the future. Each panel included representatives from higher education and graduates of liberal arts colleges who are leaders in a wide range of professions. Dr. Earl Lewis, President of The Andrew W. Mellon Foundation, and Angie Hicks, Co-Founder and Chief Marketing Office of Angie's List, presented keynote addresses.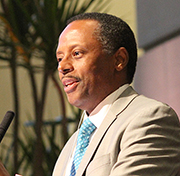 "We must expose students to a range of literacies," said Dr. Lewis, a Concordia College graduate. "For them to be fully literate, we must teach our students to write, think, and become conversant in an intercultural world and within a global context."
The Center of Inquiry in the Liberal Arts was founded in 2000 and funded by Lilly Endowment Inc. Through the Wabash National Study, the Center of Inquiry discovered that many of the qualities of the liberal arts — the acquisition of a breadth of knowledge, an ability to sort through vast amounts of information, to exercise sound judgment, to take a creative approach to problem solving, and to effectively communicate — can exist in almost any type of institution, but that they happen more frequently in private liberal arts colleges.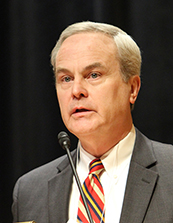 "I am convinced that my Wabash education fundamentally affected my life and contributed greatly to any effectiveness I have had as a parent, husband, professional, and a citizen," said Clay Robbins, President and CEO of Lilly Endowment Inc. "From its beginnings, the Endowment has supported efforts that advance the liberal arts. Eli Lilly, in particular, had a deep interest in how character is developed. He said, 'I would hope that we could help improve the character of the American people. For him character was developed purposefully through education and faith, and the development of character led to virtue. Virtuous people lead lives connected to one another and in so doing build strong communities.'"
Steve Ferguson, Chairman of Cook Group and a 1963 Wabash graduate, said that his company's hiring practices are shaped in part by his own educational experience. ""[At Cook,] what we look for is people who have an interest in learning and who have a broad spectrum, and you look for those people because the world is going to change so rapidly around you. If you don't have an interest in learning — in all aspects — the company is not going to succeed because the world is going to change."
Wabash College President Gregory Hess talked about ways in which educators at liberal arts colleges can make good on the promise of their institutions. "I like to say that the offer of a liberal college is to create an educational environment in which students can script their own ethical lives of accomplishment, purpose, and meaning… That is our true north."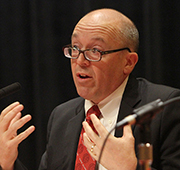 President Hess talked about the elements he sees as most important to liberal arts education, which he referred to as the "Three C's of a successful liberal arts education."
"A liberal arts education must be challenging; it needs to be tough. Life is tough. You are not preparing young students if you do not make them strive. It also needs to be confrontational. Education is in part a contact sport. You have to expose students to perspectives and thoughts that force them to question their long-held beliefs. There is also compassion. Not only do you have to challenge and confront them, you must provide a compassionate environment. You have to connect students to a community of scholars, peers, staff, and alumni fellow travelers who can, though challenging them, support them. At our colleges, we do this through our residential life experiences."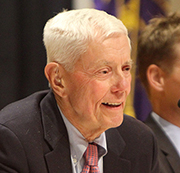 A common theme throughout the conference, though, was that liberal arts colleges have not positioned themselves properly. More than one panelist said, "Liberal arts colleges have a real marketing problem." But Dr. Connor of the Teagle Foundation said the entire question of cost, value, and post-graduate employability needs to be recast.
"I suggest we flip that rhetoric on its head," Connor said. "Next time someone says, 'return on investment' and 'will it [liberal arts] get you a job,' we need to say, "We not only want our students to have jobs, careers; we want to make them rich.' We want to challenge the notions about what richness is. We want to look for ways in which our students can enjoy not just income, but genuine satisfaction in their work, in their participation in their communities, and in their lifelong learning. We can help our students do that, and the challenge for the future is to help them do that to the maximum possible extent."