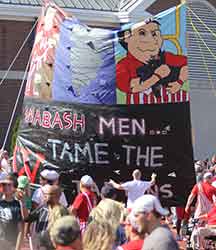 The National Association of Wabash Men honored its own — and welcomed new members to the alumni ranks — as part of the grand and cherished Wabash Homecoming Weekend, which included a special Athletics Hall of Fame induction ceremony, sports, music, and the spirit competition among the freshmen.
Activities got underway with Thursday's Chapel Sing! See photo albums above and at right!
The weekend has many highlights including Friday night Hall of Fame inductions, Saturday morning Alumni Chapel Awards, a noontime Celebrating Leadership Luncheon, and, of course, Little Giant football at 2 p.m.
It all kicked off Thursday morning when the Class of 2017 fraternity men and independents participate in one of the College's real "rites of passage" – Chapel Sing. The somewhat garbled sounds of "Old Wabash" will fill the air as freshmen are tested on their knowledge of one of the nation's longest fight songs.
For the first time ever, Wabash athletic teams were honored instead of individuals. Inductees included: 1908 Basketball, 1951 Football, 1977 Football, 1980-81 Wrestling, 1981-82 Basketball, 1982 Football, 1991 & 1993 Swimming, and 1994 & 1995 Cross Country.
Alumni took center stage Saturday before the football game. The 11 a.m. Alumni Chapel, honored the spirit of Barney Hollett '36, was hosted by the National Association of Wabash Men.
Award winners were: John Goodrich '67 - Fredrick J. Urbaska Civic Service Award; Jim Amidon '87 - Frank W. Misch Alumni Service Award; Dick Stephenson '62 - Clarence A. Jackson Career Service Award; Ethan Olberding '99 - Jeremy Wright Young Alumnus Award; Jimmy Haffner - Honorary Alumnus; Alison Kothe - Honorary Alumna; Fred Haase '71 - Alumni Admissions Fellow; James Durham '64 - Alumni Admissions Fellow; Jeff Been '81 - Career Services Fellow.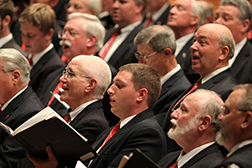 The generosity of Wabash men was celebrated at the annual Celebrating Leadership Luncheon in Knowling Fieldhouse. There was a special presentation honoring long-time Education Studies Professor Deborah Butler, who recently retired.
The Denison Big Red, 2-0 after wins over Earlham and Hiram, will visit for a 2 p.m. kickoff. The Little Giants opened just a week ago and cruised to a 69-0 win over Hanover.
The entire campus was decorated with decorations in front of the student living units on Saturday morning, and a banner contest took place at half time. The Class of 2017 carried on the tradition of crowning a Homecoming queen, as well!
The weekend is capped by the Homecoming Concert in the Fine Arts' Salter Hall. Come listen to the Wabash College Glee Club.