From the Editor: Fall 2009
Printer-friendly version | Email this article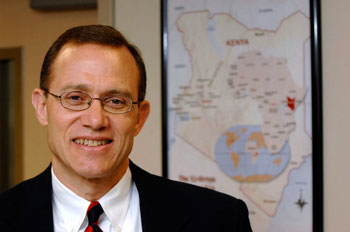 Dr. Robert Einterz '77 co-founded the Indiana University-Kenya Partnership, whose AMPATH program has been nominated for a Nobel Prize. If anyone has important stories to tell, it's Bob Einterz.
Yet invited to deliver a prestigious lecture at IU in which "colleagues of exceptional merit reflect on the wisdom they've gained through life experiences," Einterz feared he had little to offer:
"I immediately thought of Ecclesiastes' wisdom: 'There is nothing new under the sun.' The important lessons of life have been well articulated by the masters of philosophy, literature, and the arts going back to the Ancient Greeks. At best, anything I could say would be cliché."
Fortunately for his colleagues (not to mention the university's "Last Lecture" committee), Bob's son, Wabash junior Seth Einterz, intervened.
"Dad, life lessons are common, but your life—like every individual's life—is unique," Seth told him. "When you put even a cliché in the context of a unique life experience, you elevate the cliché to the original, you give the cliché meaning, and when your experience is heartfelt and sincere, you nurture hope."
So Bob Einterz wrapped his wisdom in experience. He stood at that podium and told stories. In doing so, he not only nurtured hope; he inspired his students, and reminded his colleagues of their mission. He nurtured that community as surely as if he'd fed them dinner, recruited a student, or written a check to the university.
This edition of Wabash Magazine is about the stories we tell and how they define us, a notion at the heart of two recent story-gathering projects we celebrate in these pages—the Wabash Stories Web site and the Scarlet Yarns video project.
The mere existence of the Wabash Stories site underlines the esteem in which stories are held in the Wabash community. Bruce Gras '68, Greg Castanias '87, and others met at the Scarlet Inn last spring to find a way to support Wabash students in a difficult year, and the first thing that came to mind: a grassroots effort to collect stories!
Yet even at a College whose fight song includes the line "we love to sit as the shadows flit and praise her in song and story," some of the most important tales remain untold. That's where you come in.
Whether you have a reminiscence from your student days at Wabash, an anecdote or lesson from the years since, or even a tale from your childhood that bears new meaning with the passing of time, consider this edition of WM your official invitation to tell it.
If you're a member of the Wabash community—a Wabash man, a Wabash faculty or staff member, a Wabash parent or friend of the College—your stories are Wabash stories.
They may be serious. They may be hilarious. They may be about inspiring successes or illuminating failures. They may be about you, or your mentors, or even your kids. They may be "tales told out of school" of the sort alumni tell me, "You don't really want to hear this one."
Yes, we do.
This is not a marketing effort, a way to project the image of the College to entice students or donors.
This is our history, assembled one person at a time.
The Wabash Stories Web site, the Scarlet Yarns video project, Wabash Magazine—one of them is just the place for your story. There have never been so many ways to tell them, nor so large an audience waiting to hear them.
President Byron Trippet once famously wrote, "The poetry in the life of a college like Wabash is to be found in its history."
You carry the words to that poem, whether yours is a sonnet, haiku, or a limerick.
We need you to finish the verse.