The Grunge Report: Ned Rickett: Still Telling the Story
Printer-friendly version | Email this article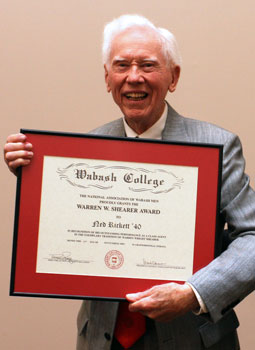 As I write this, we've just hosted our first Volunteer Forum—an occasion for those who do so much for Wabash to return to campus, catch up on the College's progress, and trade ideas and stories with each other. Initial feedback from the sessions suggests the program was a success, and next year we'll try to take it from good to great.
With so many alumni returning, I got to hear many different Wabash stories.
The first came from Ned Rickett '40 (right). Ned returned to campus from California to receive the prestigious Warren Shearer Class Agent Award for his 54 years of service to the College. In sports terms: He was inducted into the Hall of Fame!
Ned came by my office and we talked about Wabash during his days as a student and staff member. He recounted his service in the Pacific and how fate brought him back to Crawfordsville and Wabash College after he was wounded in the War. Ned later served the College as a fundraiser and in admissions, where he led the way in finding a path for GIs to return and attend Wabash.
Fast forward to 2009: I told Ned that I ran into one of his recruits. Not one from the 1940s—one in the Class of 2013. That's right, a brand new freshman. Ned's still recruiting students of promise to Wabash, and, as luck would have it, I had met this young man and his father at Freshman Orientation!
Ned's continues to tell the story of what Wabash did for him and what it will do today for others.
Later that night, I walked out to the Senior Bench. It was the Friday before the first home game and the Phi Delt pledges were doing what they do—painting the bench red before the first game.
As I approached, they tipped their pots (yes, they still wear them) to me and said, "Good evening, sir." I replied, then asked what they were doing.
"We've just finished painting the bench red, sir."
I asked, (although I already knew the answer): "Why did you do that?"
"Because the bench is always red for the first home game."
The verb "is" was an interesting choice…timeless…never ending.
The simple message was that the Bench is always red before the first game and their part of Wabash history is to make sure it is red this time. Their own Wabash story. They will tell their grandchildren about that evening at the bench, I guarantee you.
This issue is all about our Wabash stories. Make sure to tell your own.