The Stories of Little Giants
by Matthew Ripley '06
Printer-friendly version | Email this article
I believe that telling, collecting, and analyzing Wabash stories is vital to the mission of Wabash College.
My Wabash experience went by in the blink of an eye.
Looking back, it seems as though one minute President Ford was ringing us in, and a week later I was standing with my diploma for pictures in front of the Senior Bench.
Suddenly I was a young graduate with the ink still fresh on my diploma. You can hardly imagine how tiring it was going to a job interview, grocery store, or a relative's house and hearing the question "Why did you major in Latin?"
It was that phrase that inspired me to go back to school. The next big question was, "What do I study now?"
I was working as an admissions counselor for a school in Fort Wayne when it hit me—the one part of admissions I really enjoyed was hearing a person's story. I got to meet people from almost every background you could imagine, and their stories were their lives. Listening to them felt like a gift.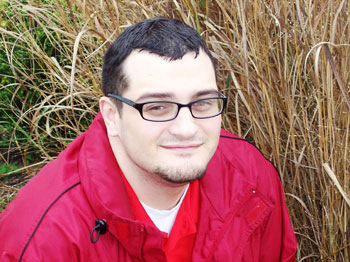 Three months later I was a graduate student at Western Kentucky University in its nationally recognized Folk Studies program.
One day last spring I was surfing the Wabash Web site when I happened upon a link to "Wabash Stories," founded by Bruce Gras '68. I was floored. Here was an amateur folklorist collecting and documenting the stories of Wabash men of all generations. And from the number of "hits" the site was receiving, you could see that hundreds of people were reading them.
I was so blown away that I had to share my "discovery" with one of my folklore professors. Dr. Tim Evans looked over the Web site and thought it was such a cool idea he wanted to introduce it into his classroom at Western Kentucky. He immediately began to plan how he could get his students to incorporate the university's stories into their own education.
As for me, I contacted Bruce, one thing led to another, and now I've been asked to be the editor of a book collecting narratives from the Wabash Stories Web site.
It's an almost singular opportunity. Only one folklorist has dealt comprehensively with the folk-
lore of college students. Simon Bronner's Piled Higher and Deeper covers a lot of material—Greek traditions, exam scams, campus jokes and pranks—but there are thousands of colleges, each with their own unique cultures and traditions. For the Wabash man, Wabash Stories is our chance to tell our own tales (our own Piled Higher and Deeper, if you will) to those who can benefit from them most: other Wabash men. Although we can talk about our culture and try to justify our traditions to those outside of the Wabash family, the stories just do not have the same impact.
In fact, the first story I ever read on the Wabash Stories site was about John Stout '08, a fraternity brother and friend of mine who died last year. The story caused me to think about all the good times John and I had shared, and how much I was going to miss "Little Stout." Then I noticed memorial pieces to Paul Mielke '42, Bill Placher '70, and Dick Ristine '41; I couldn't help but think about the lives of all the Wabash men that came before me.
It was an "aha!" moment—even for a folklorist. Right here—in my own Wabash history and community—are stories just waiting to be told, memories of good times and hard times waiting to be relived, of wisdom waiting to be passed down to future generations.
While these are stories that anyone can benefit from, the stories mean that much more to those who knew men like Stout, Ristine, Mielke, and Placher; who know the men and women who comprise the Wabash community today.
Visiting
wabashstories.com
you can read "What does 'Little Giant' Really Mean?" by Mike Perkins '80. In his story, Mike references Professsor and Dean Emeritus Vic Powell H'55, who unfortunately had retired from active teaching by the time I got to Wabash.
Yet I get a sense of the man in Mike's story. As a Latin major I had a very definite idea of what the College's motto,"Scientiae et Virtuti," means. Still, I never stopped to think about what it really meant to me. Mike recalled Vic's definition—"know-how and guts." Sharing this recollection gave Mike time to relive a meaningful moment from his past, but also passed along the words of a Wabash legend, and that caused me to reflect on how my Wabash education has given me "know-how and guts" and the ways I incorporate that into my life.
No two stories are ever the same. People process events differently—one reason why "eyewitness" testimony is worth so little in court. And it is this fact that makes folklore, and Wabash stories in particular, so darned interesting.
Yet so many people believe their own stories aren't important. It's one of the most frustrating attitudes a folklorist encounters, for nothing could be further from the truth. Every story serves a purpose for the teller and for the listener. For a Wabash man, stories are essential to the liberal arts education we hold so dear. Telling your Wabash story teaches you how to frame your experiences and to present them in a coherent fashion; it teaches you new ways to learn from others; it teaches you how to listen (a key and often overlooked element of life); it teaches you to reflect upon your life and the impact you have on those around you.
I believe that telling, collecting, and analyzing Wabash stories is vital to the mission of Wabash College. I believe that's the case even amidst the flood of communication from Twitter, Facebook, You-Tube, and other social networking media. Getting real time feedback is not always the most effective method of data collection in the social sciences; it does not provide the most reliable way to look at our history.
A simple example: How many Wabash men would have said during oral comps that they appreciated the experience? Yet how many will tell you how much they appreciated oral comps after their first job interview? "It's the great sweep of time that allows us to make sense of our lives," anthropologist Mary Doria Russell has written. Our Wabash stories, shared in our community, give us access to that sweep of time, to make sense of our shared life, and our own part in it.
I encourage you to find a friend, a pledge-brother, a sister, an uncle, a professor, a staff member—anyone with a connection to Wabash College—and listen to one story they have and tell one story of your own. You will find things will start to spill out, that you feel a connection you may have never felt before.
You may even feel as if a great weight has been lifted off your shoulders.