Reading the Water
Printer-friendly version | Email this article
"I have taken considerable ribbing from colleagues and friends about this class I am teaching this semester—Fly Fishing: The Liberal Art," Professor of Political Science David Hadley wrote as he and 12 freshmen headed back to Crawfordsville in August after their first week together as a class.
"With an immersion trip to Montana, two days of fly fishing, a tour of Yellowstone Park, it was topped off with a white- water rafting trip down the Yellowstone River. 'And we pay you for that?' asked one colleague. A few probably wondered, You call this education?"
It's a fair question.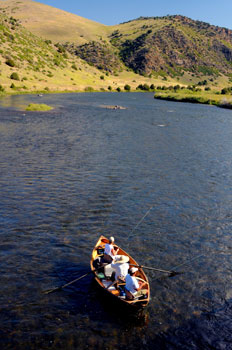 Years in the making and inspired by Hadley's own experiences with fly fishing guide and photographer Brian Grossenbacher '90, the course was introduced as "a baptism in the liberal arts in which the student will experience and examine fly fishing through the lenses of the humanist, the natural scientist, and the social scientist. He will develop skills of observation, careful and critical reading, analysis, and clear and creative communication." In other words, what professors hope to achieve with a freshman's first course at Wabash.
It was the trip itself—in a year in which the College's endowment dropped by millions—that drew scrutiny. A trip which, ironically, may have the most lasting impact.
By the time they gathered on campus to practice casting in Little Giant Stadium, the students had read Norman Maclean's A River Runs Through It, the now-classic novella that spawned Robert Redford's film adaptation and resurgent interest in fly fishing, not to mention a boom in Montana tourism.
While in Montana, they met with an expert on the politics and law of water in the West. They explored Yellowstone National Park under the direction of ecologist and Professor of Biology David Krohne and Professor Emeritus of Biology Aus Brooks '61. They fished for two days under the tutelage of professional guides. At the end of the day they debriefed by telling stories of the fish they had caught, lost, and the waters in which they'd been fishing.
They finished up with a raft trip down the Yellowstone led by 1998 alumnus Geoff Faerber's Flying Pig outfitting company with Nick Roudebush '09 as a guide. Each student wrote about the experience, keeping friends, family, and the Wabash community updated on the College's Web site.
All this before they'd even stepped into a Wabash classroom.
But is this really the way for Wabash to introduce freshman to the liberal arts?
To read the blog entries, the students certainly thought so. Online registration for the class filled in less than two minutes.
Jeff Perkins '89, who helped fund the trip and accompanied the students on the rivers, put it this way: "It's hard for me to believe that 24 years ago I, too, was a freshman beginning my lifetime journey with the College, having then more questions than answers: What are the right choices for me at the College and beyond? What exactly is a liberal arts education and where will it lead me in life?
"Conversations with these 12 men produced similar questions and dialogue as we began to find answers in the common experience of fly fishing."
Grossenbacher hosted the students in Montana and saw an analogy to his own Wabash experience.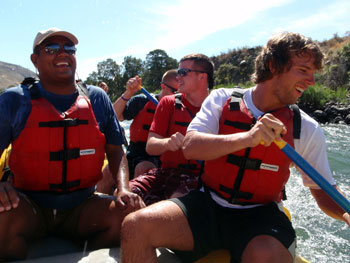 "I remembered the confidence that I brought to campus. he cocky swagger that was knocked into submission by Homecoming Week," the guide and author recalled. "Suddenly, I could taste the lack of sleep and my miniscule grade point average at midterm, final term.
"Just as I was brought down to earth by my first semester at Wabash, the trout had something in mind for these incoming plebes. On the water, we were all reminded that, as Teddy Roosevelt said, 'All men are equal before trout.' I watched one frosh miss more than 30 fish. On the hook set, he was either too fast, too slow, or sometimes non-responsive. 
"Regardless, he never quit, and more importantly, his attitude never changed. He committed himself to making himself better, he sought advice to achieve his goals, and he dedicated himself to achieving hem. At the end of the day he had a smile on his face and a trout to his name."
Professor Krohne admits to being a little skeptical at first.
"With the drop in the endowment, I did have reservations. But in the hands of someone like Hadley, you know it's going to be a quality experience. And I saw a model of what the liberal arts does for you.
"These guys don't see the water the same way anymore. They can read the water. They see current seams, they see eddies. They see back channels they wouldn't have paid attention to before."
Hadley wrote: "As we drew near the end of the raft trip, I knew these young men's liberal education had begun. Snippets of their conversations convinced me that they would seldom drive across a bridge or along a stream and see it as just another creek or river. They will wonder about its health, its fishability, where it goes and how it gets there, what impedes it, for what and how well is it used. This is education."
At the end of a trip that Hadley describes as "better than I imagined in every way," the veteran professor tried a first of his own, joining his students to jump off a bridge 20 feet above the cold waters of the Yellowstone.
"What a way for us all to jump into their Wabash education," he wrote. "It was exciting, exhilarating, and more than a little scary, but we took the plunge together."
Hadley believes that sense of togetherness continues long since the trip ended. On Freshman Saturday, when other members of the Class of 2013 were meeting their faculty advisor for the first time, Hadley and his advisees were already fellow travelers.
"They were much more relaxed, and even later, as we talked over classes, they could talk more freely, and I knew them better. I think, I hope, I was able to help them make better choices."
Over dinner at the Hadleys' home, students presented a cake to their professor in celebration of his 65th birthday. When Hadley insisted a gift wasn't necessary, one student said, "After you jumped off that bridge with us, Professor, we couldn't very well just phone this one in."
In A River Runs Through It, Norman Maclean wrote, "It is not fly fishing if you are not looking for answers to questions."
For 12 freshman in David Hadley's tutorial, that's how their liberal arts education began.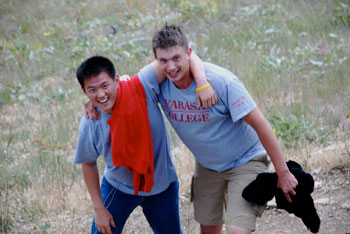 But what has Wabash learned?
Should all freshman have a similar experience, taking advantage of the unique ways young men learn, establishing friendships with fellow students and professors before the first day of classes, the pressure of course selection, and fraternity life?
Is this a model for new ways to integrate alumni expertise, as well as financial support, into Wabash courses on campus and off?
What professor, faculty team, or alumnus has an innovative way to introduce Wabash students to the world, and how can they get together to continue to make a Wabash education even better?
Those are fair questions.
One thing is certain for David Hadley—it's worth doing again.
Originally planning to retire next year, the professor is revising his plans so that he can teach Fly Fishing: The Liberal Art again —to lead students into the West as a great way to begin their Wabash careers, and a wonderful way to complete his own.