Works in Progress: From Hollywood to the Heartland
by Jim Amidon
Printer-friendly version | Email this article
California native Chris Geggie's passion for the past and dedication to community serve him and Wabash well.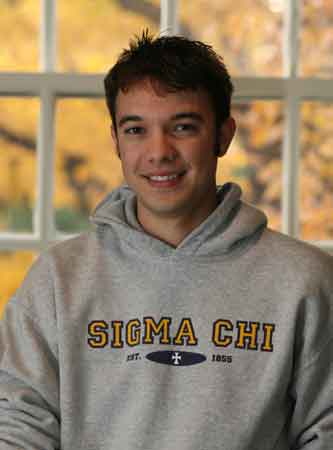 Most people at Wabash first notice junior Chris Geggie at Chapel.
They wonder, Who is that guy playing the piano at Chapel? He's really good!
But to label Geggie a "pianist" does little justice to the broad range of interests that Geggie has cultivated at Wabash and that he brought to the College from his home in Alhambra, California.
Not only is the slightly built Latin and Greek double major one of the brightest classicists at Wabash, but he's also brought a level of responsibility to residential life few others before him could even imagine.
As risk manager for his fraternity, Sigma Chi, Geggie has written the book—literally—on emergency preparedness and first aid. And with more than 250 hours of certified lifeguard and first aid training, he's well equipped to change Wabash's laissez-faire attitude toward emergency planning.
"I did a complete overhaul of [Sigma Chi's] risk management policies," Geggie explains. "I created an emergency action plan, a comprehensive booklet that's been placed on every floor of the house. We're also starting a first-responder program, educating two members of each class on basic first aid and CPR. We'll be integrating it into our overall pledge program so that in years to come our pledges will all know CPR and first aid."
Geggie has also helped Sigma Chi develop a program that uses chapter funds to pay for Emergency Medical Technician training for one member each year. Having someone fully trained as an EMT, he says, is an important asset for Sigma Chi and the entire campus.
Now he's working with Sigma Chi International to incorporate some of Delta Chi Chapter's policies nationwide.
The son of a Detroit-born Los Angeles police lieutenant and a former USC Trauma Center nurse, Geggie should have risk management and safety in his genes. But it is his work as the senior lifeguard at the city pool in Alhambra that has driven much of his work at Wabash. "I'm the guy who ensures the safety of our patrons and our staff," he says. "I'm the guy who makes sure all the equipment is working, the chemicals are stored safely, and our staff is well trained."
Risk management, though, is but one of Geggie's interests. His love of all things ancient, including the study of Greek and Latin, powers his intellectual pursuits.
His father, Paul, earned a Fulbright scholarship to spend six months working alongside Scotland Yard detectives to study the way UK police work with mentally ill criminals. Visiting his father over the holidays gave Chris his first taste of Europe, and he instantly fell in love with ancient Rome and Greece.
His Loyola High School Latin teacher, Teresa Yamauchi, inspired his interest in Latin. "She's so passionate, cares about her students, and does everything she can to make the class fun and meaningful," Geggie says. It was Yamauchi who led a group of Loyola students on a spring-break trip through Italy and Greece that fanned Geggie's smoldering interests into a burning fire.
"It was so funny the way we acted when we got to Greece; we were all so blown away, so geeked out, we should have been wearing pocket protectors!" He laughs. "Every time we turned around we saw something that we had only studied. It was an amazing experience."
He discovered Wabash when he received a postcard from the College. Later, when Senior Associate Director of Admissions Walter Blake visited his high school, he missed the appointment. Blake persisted and came back the next day, which impressed Geggie. He would visit Wabash twice in his senior year of high school, once for a multicultural recruitment event and later for Honor Scholarship Weekend. He finally chose to attend Wabash after receiving an Honor Scholarship, Fine Arts Fellowship, and President's Scholarship. He tested into third-year Latin classes at Wabash.
"My classics mentors have been Jeremy Hartnett, Leslie Day, and David Kubiak—and all for different reasons," he says. "Dr. Hartnett brings this incredible energy to the classroom. Dr. Day makes the learning real and fun. And Dr. Kubiak is one of the toughest teachers I've ever had.
"He expects his students to raise themselves to his intellectual level," Geggie says of Kubiak. "You don't get a lot of compliments from him, but when you do, you know you're doing an awesome job."
Geggie's enormous energy and robust attitude in life date to his early childhood. "My mom says I banged pots and pans all over the house," he says. So his mom, Olivia, did what good moms do for energetic, banging children: she bought him a piano. He took lessons for six years, then quit until his high-school years. At Wabash, he takes piano lessons from Diane Norton and organ lessons with Cheryl Everett.
"I took up organ simply to be able to play the fight song in the Chapel," he says. "Old Wabash is a beast to play well on the piano and a horrible monster with lots of teeth to play on the organ."
Yet true to his nature, he persevered and figured it out. One of his fondest Wabash moments came when he played Old Wabash on the Chapel organ in front of a massive crowd. "It was President Andy Ford's last Chapel Talk, and I got to play the fight song. It was such an emotional moment for him—I could see him from where I was. And it was equally emotional for me."
Fast-forward three months and Geggie was right there in the Chapel again, this time "playing in" new President Pat White, again managing the difficulties of the fight song on the organ and fully invested in this place so far from his California home.
"When President White finished speaking and sat down, I could see that he had tears in his eyes," Geggie says. "I started playing the song, and he stood up to sing and he looked so proud. I knew right then he was the right man to lead the College."
Photo, above right: "I really like it here in Crawfordsville. The pace is slower, people are genuine, and my absolute favorite time of the year is fall. Everyone comes back, the freshman class pumps energy into the College, and when the leaves change, you get this symphony of color. I rearranged my room so that my desk faces out the window and I can watch as the leaves change."
—Contact Geggie at geggiec@wabash.edu