WM Winter 07: From Center Hall
Printer-friendly version | Email this article
A Little California in the Soul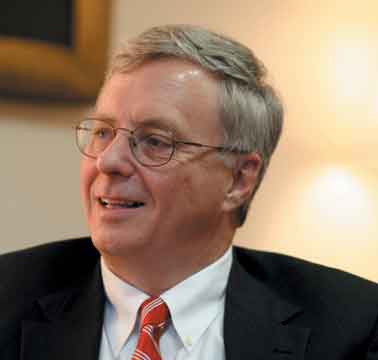 Growing up teenagers in Dixon, Illinois in the mid-1960s, my friends and I all wanted to be Californians. It wasn't as though we actually wanted to move to Bakersfield or Sacramento or even Los Angeles or San Francisco; and when it came time for college not even the most adventurous of us sent off applications to USC, Stanford, or Berkeley. And this was long before the most famous graduate of our high school, Ronnie Reagan, became governor of that state. Our California was not a political unit or even an address. Our California was a state of mind, a state of the spirit.
We concocted this California of the spirit out of corny beach movies, the driving music of the Beach Boys and Jan and Dean—a world where all the girls were beautiful, and all the guys were cool, and the sun shone every day. "California Dreamin'" by the Mamas and the Papas was our anthem. When that song was piped into the cafeteria where we gathered before classes, we would jump on the long cafeteria benches and ride the waves off Malibu as we sang along. And on long summer nights, when we should have known better, we would ride skateboards down Lord's Hill, flying down the old state highway on first generation skateboards, a step above homemade but not much more than planks on roller skates.
We were maniacs, reckless and wild, brave and free. We were young in a world where everyone seemed young, but we were far from rebels; our world was filled with doing well in school and sports. Our days were filled with practice, work, and homework, our summers spent baling hay, working in factories and shops; and the closest any of us got to the beach was lifeguarding at the town pool. However wild our spirits were, our lives were pure Midwest duty, and that was fine.
Only two of my friends from that time moved west. One of them actually took up surfing in his 40s and continues to surf the northern California coast's wetsuit cold waters. But the California dream is not dependent on geography. While the men whose stories you read in this issue of Wabash Magazine are all Californians by address, they are, more importantly, Californians by spirit. They are also men of Wabash, dreamers who have accepted the responsibility of their dreams and have made out of their lives something extraordinary.
Wabash men have always been Westerners of the spirit. When Wabash was founded in 1832, Indiana was the West. When President Charles White addressed the four graduating seniors in 1842, he spoke to them of the "Duties of Educated Young Men of the West," advising them to take up lives of learning and service.
To dream of California is not to turn our backs on Indiana. For Wabash College, as firmly grounded in Indiana as any college in the state, is yet, like Hemingway's Paris, a moveable feast. If you are lucky enough to live in Paris when you are young, Hemingway wrote, then it stays with you the rest of your life. If you are lucky enough to know Wabash—and, especially, to attend Wabash as a young man—then Wabash goes with you wherever you go. We all know that whenever two Wabash men gather together, Wabash springs out of the conversation. Yet even individuals carry Wabash with them. Indeed, we all carry Wabash with us, faculty and staff, men and women, students and teachers; and in that pride of ownership, that honor in who we are as Wabash and what we can become, lies a greatness of this College.
For to be at Wabash is to learn that the frontiers of the spirit know no boundary.
One can be a dull and unimaginative thinker in San Francisco, and a vital dreamer in Indiana. Recently the student body elected as their new president Jesse James, a junior from Sullivan County, Indiana. Even with a name that resonates with the American romance of the outlaw, Jesse could be seen as having rather homebound ambitions. He wants to go to law school, return to Sullivan County, and eventually become a judge in service of the place where his family has lived since the 1780s. But our Jesse James is also a Californian of the spirit, full of dreams and ideas for the betterment of Wabash, Sullivan County, and the larger world, not unlike two other Sullivan County men who preceded him here and had their own adventures in California—Will Hays Sr., Class of 1900, and Will Hays Jr. '37.
Jesse, like these and many Wabash men today who lead and animate this campus, has much in common with the Wabash Californians profiled in this issue.
Wabash men are born with a little California in the soul—questors who face the world with a confidence, innocence, and a freshness that makes them not only ready for the world, but ready to change the world. This "California of the spirit" is beautifully illustrated, ironically enough, in a book set on the East Coast. In the final passage of The Great Gatsby, the young Midwestern narrator Nick Carraway recalls the Dutch sailors who navigated Long Island Sound and saw "a fresh green breast of the new world" where man was "face to face for the last time in history with something commensurate to his capacity for wonder."
This capacity for wonder—this ability to be delighted and amazed by the world—is what I see in so many Wabash men as they speak of their lives, what I remember as the black top flew below the rumble of our skateboard wheels years ago on Lord's Hill. This amazement is coupled with the energy to dream and to accept the responsibility for that dreaming, the conviction that is so rich in the California of the spirit, the conviction that one can literally make one's life. This complex conviction is carried by Wabash men from Nepal to New York City, from South Africa to South Bend, from China to Chicago, from Seattle to San Diego, and all places in between. Where Wabash men dream and work, where Wabash men bring to life their best imaginations and their deepest energies, there is Wabash College, alive, strong, and fully realized.
Yours in Wabash,
Pat White
Contact President White at whitep@wabash.edu