Mississippi Diary
Printer-friendly version | Email this article
Four Wabash students reflect on their Fall Break trip to assist with recovery efforts in the wake of Hurricane Katrina.

Going home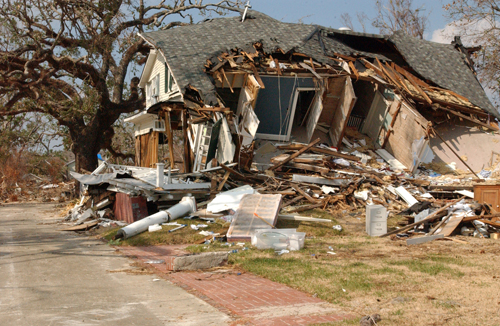 Looking at what had been my home for more than 20 years, I am still trying to piece together a heart torn apart by Hurricane Katrina.My home was built by my grandfather in 1960 after he and my grandmother moved from northern Mississippi to the Gulf Coast. He built it well—it held so many memories. But on this day I was watching my mother's face as some guys were throwing away pieces of ruined furniture. We took a deep breath and hugged each other as the men threw out the headboard of her bed. My grandmother gave birth to my mother in that same bed back on New Year's Eve 1961. Years later, my mom, unable to make it to the hospital because of a storm, gave birth to me in that same bed.
On the Thursday afternoon after our arrival, the guys helped my neighbor take a power saw and work on the walls where many pictures of family and friends once hung. I could practically feel the blade as it penetrated the wall. I had to pull myself together and remember that the walls are material objects that can be replaced in time. What's most important is that my family is doing well. Memories now must rest in the hearts and minds of many families that share the same devastation.
—Nikeland Cooper '06, Moss Point, MS, MXI chairman and recovery trip organizer
Not dead, but only sleeping
For the first two days, we helped Nikeland Cooper's grandma and another resident consolidate what could be kept in their destroyed houses. I felt awkward walking into somebody's house to tear down drywall and remove the soaked insulation. These houses still seemed so alive: family portraits, souvenirs from past trips, birthday cards to loved ones—everything was still there. As damaged as these houses were, I still felt as if they were only sleeping—not dead. That the hurricane was just a nightmare, and we can't wait to see them wake up.On our last day we visited Biloxi, where the destruction went far beyond what we had seen at Moss Point. Once a nice tourist town with casinos and a sandy beach, Biloxi is now nothing but a few crumbling roofs. Much of the population is Vietnamese American, and I could recognize many of the storefront names written in Vietnamese. We even stopped by a Vietnamese Buddhist Temple. Suddenly, I could better understand what Nikeland felt as he watched his grandmother's house being torn apart. Mississippi was no longer a strange, distant place for me, but a home for my own people. I was quite moved that my Wabash friends were so eager to help out there, installing insulation inside the temple, as well as distributing donated items to the community of victims there.
—Ben Nguyen Tang Le '06, Ho Chi Minh City, Vietnam

Mucking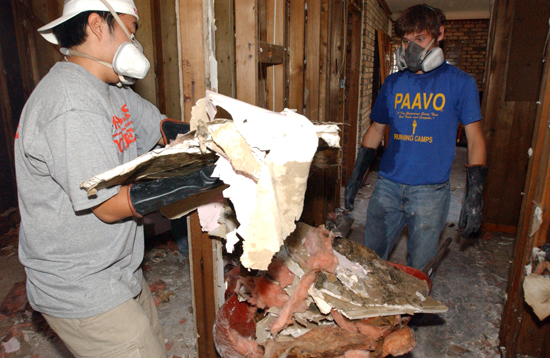 On the third day we mucked. "Mucking" is the term used to describe the process of tearing out and gutting the interior of a house. We spent the day at the home of an elderly woman who had lost all the contents of her home to flooding. She and her son stayed at the home during the storm. She told me that they went to the top of the carport and then into the attic after the winds picked up and a section of the roof blew off. For two days, she said, they survived off Vienna sausages and containers of water. This woman had lived there since 1962. She raised two sons in the house, and it was also the place where her husband died. To make it worse, she was there watching us tear it all apart. I could not get the notion out of my mind that we were stripping the inside of this woman's home while she was watching. No matter how tough you think you are, this type of work plays havoc with your emotions.
—Jesse James '08, Sullivan, IN

Family
In Pascagoula, Andy Brimm '09 introduced us to his family. While working alongside them the next few days, I learned that Andy's family had lived in the Pascagoula area for several generations, and that nearly all of his aunts, uncles, cousins, and grandparents live there today. I met more than 20 members of his family, and every one of them was thankful that a bunch of college guys would give up time with friends and family to work here instead."It is good for people down here to see y'all coming down here to help," Andy's grandmother said. "It lets them know that people not from here still care."While we were loading up the van on Sunday, Andy's dad said, "I'm so proud of you boys for coming down here and doing what you did. What you did for this family will not be forgotten. You boys have to come back here when all of this is finished and we'll show y'all a good time!
—Tony Caldwell '07, Washington, IA
Edited from essays previously published in The Bachelor: http://bachelor.wabash.edu
Photos of hurricane damage and relief work in Pass Christian, MS by Brock Johnson '07