Winter 2006: The Grunge Report
Printer-friendly version | Email this article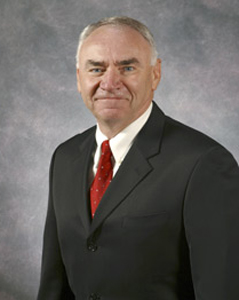 On September 17, my wife, Carol, and I had our first opportunity to visit Washington University in St. Louis—a nationally recognized educational powerhouse. The previous day's rain had cleared and the sky was a cloudless, deep blue. The campus was alive—we must have seen 25 student groups touring the campus. A great early fall day at Washington University. But Saturday wasn't about Wash U—it was about Wabash football, and we were there to make sure the Bears finished second to the Little Giants!
Wash U is a great school, but on this day, Wabash's Little Giants—before, during and after the game—had the upper hand. It was a good football game—Wabash's defense played exceptionally well and the offense was good enough for a solid win against a good football team. But that isn't what impressed me on September 17. What impressed me was the spirit and camaraderie of the entire Wabash family: alumni, parents, and friends.
Before the game, it was tailgating. Several of us who work at the College have become good friends with the Wabash football parents, and that makes these events even more special. Laura and Rick Roop (Brandon Roop #10) and Doug and Heather Fields (Hunter Fields #51) organize the tailgates, but everyone helps. These gatherings have become as comfortable as your favorite recliner. They just feel right. Everyone is welcome, everyone pitches in, and there's always plenty to go around.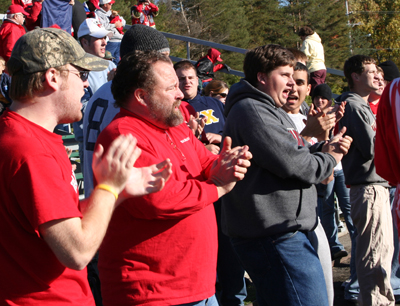 The neatest thing is how this spirit quickly envelopes new attendees. It's been awhile since we played a football game in St. Louis and, naturally, we had a number of Wabash family members from that area at the tailgate. Local leaders like Charlie Raiser '69 and Mike Kelley '70 helped bring out a crowd. Judy and Dudley Burgess '64 drove down from the Chicago area to attend the game and to see son Andy's (Wabash '90) family! In not more than a handful of minutes, the day was like a family reunion.
At the game, the number of Wabash fans equaled the Wash U fans, and we clearly out-noised them! I felt bad for the Wash U football team sitting right in front of us. But I came away very proud of our fans and our football team. I thought back to the Mount Union-Wabash game in 2002 and how, even though we were behind, our team never stopped giving it their all and our fans never stopped cheering. Mount Union fans simply could not believe the Wabash spirit, and on September 17, Wash U fans saw it first-hand.
Driving home, I thought about two excellent schools with strong reputations; two schools with long and distinguished histories of producing world-changing leaders. The difference? Wabash Always Fights! We persevere not only on the field, the diamond or the court, but also in honoring and maintaining the connections and values that make us the Wabash family.
For me, that makes every game a home game.­­
—Tom Runge '71, Director of Alumni Affairs; runget@wabash.edu
Photo above: Professor Rick Warner and Wabash students and alums cheer for the Little Giants at Allegheny.