Works Revisited: Luttrell Levingston '98
by Jim Amidon
Printer-friendly version | Email this article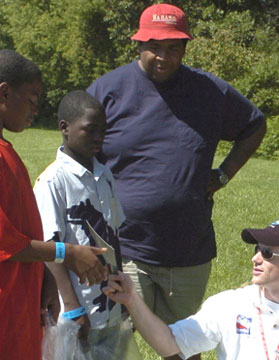 Luttrell Levingston was one of the first students we profiled in Works in Progress. He was then a sophomore who was intrigued with ideas: "I want to see both sides of an issue, all sides, before I make up my own mind and form my own opinions."
After a two-year stint as a Governor's Fellow with then-Indiana Governor Frank O'Bannon, Levingston attended the University of Michigan Law School. He spent three years in a large Detroit law firm doing commercial litigation until last January, when he went to work as an Assistant Attorney General for the Education and Social Services Division of the Michigan Attorney General's office. Coming from an urban background, Levingston now spends his days representing the state in issues like foster care, adoption, and Medicaid.
Ten years ago, Levingston said, "There are problems in the Black community, and we know that we have to be the ones to solve them."

Today he models his commitment to solving problems in his community as a mentor to two boys as part of the Big Brothers/Big Sisters of Metro Detroit.

He's also on the board of directors for the Student Advocacy Center of Michigan helping students who are suspended or expelled from school for violations of zero-tolerance discipline policies.