A Father's Dying Words
by Hobert Winebrenner with Mike McCoy '91
Printer-friendly version | Email this article
While co-writing the memoir of World War II veteran Hobert Winebrenner, Mike McCoy contacted many of the families of Winebrenner's former comrades in arms and listened to their stories. But after he spoke with the sons of Captain John Marsh and Sergeant Paul Inman, he was able to arrange a conversation 60 years in the making.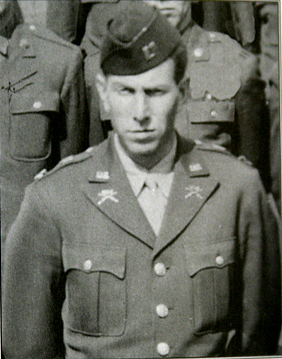 John Marsh was born in Colorado, attended the University of Montana, and helped finance his education by driving a tour bus through Yellowstone National Park. He earned his MBA in 1941 and joined the Army shortly thereafter. He was my Captain at Normandy in the summer of 1944.
He was strict but fair, extremely intelligent, and personable. He excelled at map work and strategic positioning; he saw the big picture rather than just the next step. He commanded respect without demanding it. We would have followed that man to the end of the earth, and in the summer of 1944, Normandy wasn't far from it. Captain Marsh was the man who led us onto and off of Utah Beach two days after D-Day.
On the morning of July 10, Captain Marsh received a letter from his wife, Beth, telling him that she'd given birth to their first and only child, William Joseph. Later that day, Marsh was fighting alongside First Sergeant Paul Inman at the savage battle of Foret de Mont Castre when both were hit with shrapnel from the same German mortar round. The blast knocked both men to the ground. They lay beside each other, both seriously wounded, when Marsh asked Inman for a drink of water from his canteen. The sergeant obliged without hesitation.
Marsh's condition deteriorated rapidly. He was bleeding out, and the water had only exacerbated the problem. Inman tried desperately, but he couldn't save our captain's life. Amid the tangled landscape and sheets of enemy fire, Marsh's thoughts left the battlefield to visit a son he'd never see—a son he'd never hold, but a son he surely loved.
Captain Marsh turned to Sergeant Inman and whispered in defiant glory: "They may get me, but they won't get my boy."
When Beth Marsh received word of her husband's death, she changed the name of their infant son to John Weldin Marsh, Jr.
Sergeant Inman recovered from his wounds and returned to the front, but he was forever changed. He would not forget Captain Marsh, what he had said, nor the wife and son he left behind. It became Inman's lifelong mission to locate them, and to tell the boy of the father he never knew. Following the war, he went to the Marsh's home in Billings, but Beth and John, Jr. had moved away. As Inman grew old, he told his sons about Marsh. His commitment became theirs.
Beth Marsh died of cancer in 1990, and Paul Inman died in 2000. But his sons continued the search.
In 2004, First Sergeant Paul Inman's son, Wade, found and contacted John Marsh, Jr., who had been diagnosed with bone marrow cancer. Remembering the words of his own father, Inman poured out all that he knew of Captain John Marsh. After 60 years, John Marsh, Jr. learned that as a baby boy, he not only was loved by the father the war took away, but had been a cause of hope and comfort in his father's final moments.
"It was like hearing words from beyond, reaching out for me," Marsh told the Dallas Star-Telegram from the M.D. Anderson Cancer Center.
Marsh's wife, Susan, said, "Finally, his father is coming alive for him."
Photo: Captain John Marsh, circa 1944
Excerpted and edited from Bootprints by Hobert Winebrenner and Mike McCoy '91
Contact Mike McCoy at comamajo@yahoo.com