Four Great Gigs: Focus!
by Steve Charles
Printer-friendly version | Email this article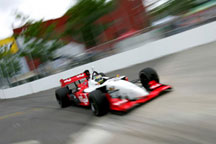 "You're running down the back straightaway at Road America on a fall day and you sneak a peek in the mirror," race car driver and driving coach Barry Waddell '85 says as he recalls his run in a 1991 Lola Champ car around the Wisconsin road course.
"The reds are redder, the blues are bluer. The world is in sharper focus from the absolute intensity of it all. Maybe for just a moment you allow yourself to feel it; you catch yourself thinking, This is so fun, so cool.
"A second later you're right back to thinking, Where do I brake next? How do I attack this turn? That's where the addiction is—in the challenge of not letting all that intensity affect you physically and emotionally. The level of concentration required to keep all that in balance—to stay focused—is higher than in anything else I can imagine in life."
Today Waddell sharpens that balance and focus—he calls it "race craft"—in two of the racing world's young lions. As director of driver development for Team RuSport, he coaches 2004 Rookie of the Year A.J. Allmendinger and former Formula One driver Justin Wilson on a team that has become a top contender in the Champ Car World Series after only two years on the circuit.
The 42-year-old Waddell's reputation comes from more than 20 years as a competitor and teacher. Unlike Allmendinger, who began driving go-karts competitively at age eight, Waddell entered his first race several years after attending the Skip Barber three-day racing workshop at age 22. But his skill impressed drivers there, and soon he was teaching at Barber's Competitive Racing Program while raising money to mount his own campaign in the Barber/Dodge Pro Series. He counts his first victory in the series at Sebring as one of the most meaningful accomplishments of his life.
"I had set a goal for myself. For a driver with no experience until after I graduated from Wabash, this win was a real benchmark for me and afforded me some of the respect to do my teaching and coaching today."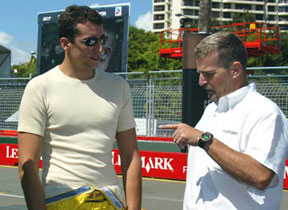 For Waddell, driving and his job as teacher/coach are separate worlds. Today he makes his living in the latter. He enjoys being a part of a team with a refreshing and innovative approach to the sport, and the drivers he works with "are very accomplished, very experienced race car drivers.
"I have to challenge myself to know more, learn more, and stay in shape," says Waddell, who also oversees the drivers' physical conditioning. "Nothing better motivates guys in their 20s than a guy in his 40s saying, 'I'm doing it—what's your problem?'"
He says that on a racing team, the driver, race engineer and crew chief are like the quarterback, halfback, and the center. And Waddell serves as quarterback coach.
"We walk the track, and during setup I'm one of the people who helps the drivers find the quickest path around the track. I also make sure that the driver, engineer, and crew chief are all on the same page at each turn. Racing is a game of efficiency. The person who makes the best decisions utilizing limited resources in the shortest amount of time wins. It's that simple."
Waddell enjoys working with both drivers. He notes with pride Wilson's victory at Toronto this year, even as he lauds Allmendinger's podium finishes at Denver and Australia. He has coached or watched almost every race Allmendinger has run since the 26-year-old moved from racing karts to cars in 1999.
"A.J. is a very good race driver—and he is potentially exceptional. He's a little like Brett Favre—a lot of natural ability, great instincts. The need to win is in his genes."
One of Waddell's favorite moments with Allmendinger came at Cleveland, when the young driver was leading the Barber/Dodge Pro Series in 2002. With a few races to go, Allmendinger needed only to earn a few points in each race to win the championship and ignite what could become a stellar career. But A.J. wanted to win every race.
"Up to that point he was a sprinter," Waddell says. "I challenged him to take it to a new level where he didn't rely on sheer speed, but tempered it with the need to protect the car and finish in the top seven.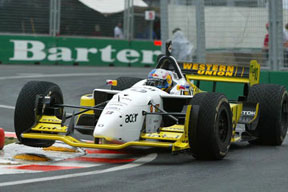 "And sure enough, he did it," Waddell says, sounding every bit the proud coach. "This guy spun in front of him at Cleveland, and A.J. protected the car. He didn't try to force his way through, but went out into the grass and came back dead last. Then he just lit up, set the lap record two laps in a row, made a beautiful pass on Danica Patrick, and finished fourth.
"When he came in I told him, 'That's the kind of race that wins championships.'"
That moment came to mind earlier this year when Allmendinger crashed at Toronto trying to pass a slower car for second, costing the team it's first one-three finish. Waddell had his driver's back.
"I told the guys, 'You all know A.J., and you know that nine times out of ten, he'll pull off that pass,'" Waddell says. "As the coach, you back up your driver. I asked him if he learned anything, we talked about it, and it was over. Over-analyzing one accident opens up more problems than it's worth."
Waddell looks forward to the day A.J. wins his first Champ Car race. "It's great to be part of the team that helps the driver win," Waddell says, noting that when he's observing his drivers, he can practically feel every turn. "But I don't have the wheel in my hands. I can't feel the track."
So he returns to the cockpit from time to time to stay sharp. He drives in vintage races and has a shifter kart he says is "pretty demanding." He has goals for his driving career, even though for the time being they've taken back seat to his coaching and his family.
But you don't have days like that fall afternoon on the back straight at Road America without wanting more.
"Like I tell the guys," Waddell says, "I've still got to scratch that itch."
Photo: Waddell talks with RuSport driver Justin Wilson before the Champ Car race at Surfer's Paradise, Australia.