Speaking of Sports: What Makes Athletes Wabash Men?
by Brent Harris
Printer-friendly version | Email this article
I can hardly believe I've been writing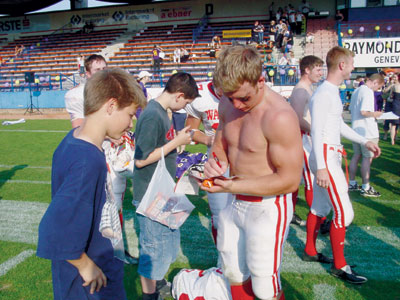 "Speaking of Sports" for Wabash Magazine for more than half of the column's 10-year existence. I still remember reading it when the stories were written by Jim Amidon '87, now director of public affairs and secretary to the College's Board of Trustees.
Meeting players, interviewing and preparing these stories has provided my most memorable moments at Wabash. From my first look at Wabash athletics as an "outsider" covering the Little Giants in the media, to the most recent iteration, where we met Kyle Havlik and went into the rodeo ring for a close-up look at the sport he loves, the stories have given me a deeper understanding of what makes a Wabash athlete a Wabash man.
Kyle and I had run into each other on the football field and at practice, but interviewing him for "Speaking of Sports" was the first time I ever heard what was really important to him. He only hinted at the success he had achieved as regional Rookie of the Year on the International Professional Rodeo Association tour. But Kyle's face lit up as he spoke of riding a bull in the training ring for the first time, about traveling to rodeos with his dog in his pickup truck, about the intense focus and escape he found during that "eight seconds of pleasure" when all that mattered was staying on the back of that bull.
Success has come in a different way for Joe Trebley '01, whom I first met when he was roaming the field as one of the Little Giants' leaders on defense. But what I wrote about was his internship at Harvard's Dana Farber Cancer Institute, where he spent the summer doing research with Dr. Tom Roberts '70. Today, Trebley is working on his Ph.D. at Purdue University Krannert School of Management as a research fellow studying novel steroid hormone therapies, his life ever-changed by his work with Roberts, whom he first met during an on-campus lecture. The two grew up in the same area of Indiana, both rural farm boys with a desire to help others.
I felt like I was in actually in Australia with Rob Johnson H'77 when I interviewed him about his coaching stint with the U.S. Olympic team for the 2000 Games in Sydney and heard him describe what it was like to walk into the Olympic stadium as part of the U.S. contingent. Returning to Crawfordsville, Johnson was met at the airport by members of the Wabash cross country team, who were ably coached in his absence by the late Charlie Finch '51. When Johnson walks through the Allen Athletics Center, he'll occasionally wear the souvenir Ivory Coast team shirt members of that country's team gave to him.
When the football team traveled to Germany and Austria in 2003, the trip was more than just a chance to play a football game. Wabash men scaled the Alps to sing "Old Wabash" at oneof the many summits, and they gained a better understanding of the atrocities that took place at Dachau during a tour of the concentrationcamp. They told me of lighter moments, as well, when Austrian children clammered for autographs and a chance to meet the American football players. Stu Johnson '04 and teammate Josh Bronaugh '04 became so enamored with life on the road that they went to Australia after commencement, playing a season for the West Sydney Pirates, going to the city that had hosted Coach Johnson just four years earlier.
Todd Bowers overcame a nearly tragic injury on the football field at Hiram. Randy Widener '02 gave up his winter break to work with his father in the Red Cross disaster center in New York after the events of September 11. Chris Healy '05 battled and rose victorious on the wrestlingmats after battling a cataract as a child that cost him his right eye. The subjects have been different, but a common theme runs through them. Wabash athletes—Wabash men—meet challenges head-on, make things better than they were when they arrived, and strive to make themselves better day after day.
While I'm blessed to get the chance to see these young men as athletesand students in their day-to-day endeavors, the things we've explored about them in these pages have been as exciting as any touchdown basket, or record that I've ever seen set. And the stories will continue, because Wabash men will continue to excel.
Contact Brent Harris at harrisb@wabash.edu