Works in Progress
Printer-friendly version | Email this article
by Steve Charles with Josh Petruniw 05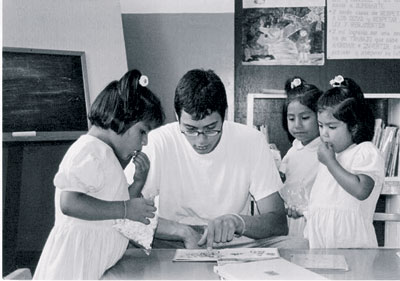 Carlos Carrillo can't recall if it was a truck or a large car that slammed into the subcompact taxi he and Josh Petruniw '05 were riding in during their second week in Lima, Peru.
But he can't forget the impact.
"The taxi driver ran a stop sign and—boom—we're hit!" Carrillo says. "This little, fragile box of a car flipped over and scraped along the pavement on its roof until we hit a post."
Dazed but not seriously hurt, the driver and the Wabash students pulled themselves out of the demolished car and into the public eye.
"TV cameras came, reporters were taking pictures, and we were in the papers the next day under the headline 'American students involved in auto accident,'" Carrillo recalls. "I was sort of stunned. Josh turned to me and said, 'Do you realize what just happened?' But I was happy just to be alive."
The way Carrillo expressed that gratitude caught his traveling companion off guard.
"Carlos turned to me and asked me for my share of the cab fare," Petruniw recalls. "After I realized he wasn't joking and I gave him my share, Carlos walked over to the taxi driver to console him. He paid our fare, but he also gave the driver all the money he had in his pocket. He knew the man had lost his only means of income.
"As we walked home that night, Carlos said he needed to stop just planning to make a difference in the world; he said he had to start right now."
SOMETIMES A STUDENT and a college meet at just the right time.
Born in Chicago, Carlos nearly died from a blood disorder as an infant, requiring such expensive medical treatment that he and his mother had to return to the family's former home in a small village in Jalisco, Mexico. His father stayed in the U.S., working three jobs to pay off the bills. The elder Carrillo returned to Jalisco when Carlos was six.
"I ran to him," Carlos recalls. "I was so happy to have a father."
The family moved to Lafayette, Indiana, in 1989, but Carlos smiles when he remembers the hours the two spent working in the fields of Jalisco. Both of his parents are role models.
"My mom is very active in the community —she's the one who drove me to be ambitious, to be educated," Carrillo says. "My dad is more subtle. He's a very hard-working man, but what matters most to him are the relationships you hold with people."
Seeking both a way to serve and a deeper understanding of his own heritage, Carrillo arrived at Wabash just as the College's Campaign for Leadership was making possible the learning opportunities he needed.
As a freshman, he enrolled in The History of the Indigenous Peoples of Mexico. The course, taught in Spanish, included a 10-day immersion trip to Mexico. Thanks to the connections and generosity of Nancy and David Orr '57, he met Sergio Castro, an anthropologist and self-made medic for the indigenous people of the region surrounding San Cristobal de las Casas, Chiapas.
"I'm not sure what my vocation is, but I want to be a man like that," Carrillo said after speaking with Castro. "His is a work of honor."
In his sophomore year, Carrillo earned one of the first Dill Internships, returning to Chiapas to work for Pronatura, a nongovernmental organization specializing in sustainable development. He spent five hours a day analyzing legal documents and helping propose a new agenda for development
in Chiapas, but evenings were his own. Sometimes he'd spend them with Justin Grimmer '05, Reynaldo Pacheco '06, and Masud Bahramand '05.
"Our internships were in very different areas, so when we'd get together we'd talk about our experiences and the culture," Carrillo says. "Justin was very motivating—he's one of those guys who pushes you to stretch for your best—but it was helpful to have all of them there. When we see each other now we talk about 'the old days' and our time in Chiapas. I have these wonderful connections with people outside my fraternity, totally different guys."
As drawn to the people of Chiapas as he was to issues of social justice, Carlos surprised his bosses at Pronatura by accepting an invitation to work in the fields with the indigenous people the group was there to assist.
"It took me back to the days when I worked alongside my father," Carrillo says. "But these men were very different from me. They were totally adapted to this place. I was Chicano, not totally Mexican. So they wanted to figure me out as much as I wanted to understand them. They seemed amazed that I picked up the shovel and was going at it."
Working with the men by day, Carlos was invited to spend the evening relaxing with them—recreation which included drinking rituals lasting long into the night. Thinking back on the experience, Carrillo recalled his earlier immersion trip to Chiapas, when he had watched workers such as these as an outsider from the comfort of an air-conditioned bus.
"It's like this connection from my first trip was complete," he says. "I was beginning to get a sense of what it felt like to be of this culture."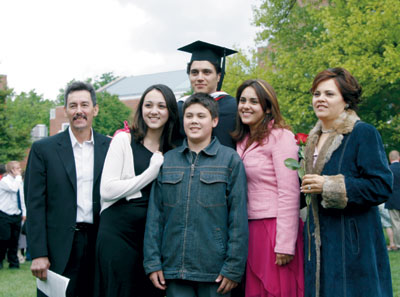 "IT'S NOT THAT I WANTED to get away from the College, or from my family—those are my only anchors to anything, or any place," Carrillo says. "But I wanted to explore the world, to take advantage of all these opportunities the College was offering me. I was not going to sit there and let life go past me."
Next stop—Peru.
"My seminar with Professor Warner sophomore year got me interested in Peru and the parallels between the Incas and the Aztecs and their clashes with European culture," says the 2005 winner of the John Charles World History Prize. Director of International Studies David Clapp had studied in the country.
"Even though we didn't have a specific program there, he said that if I wanted to do it, I should do it," Carlos says. "It hadn't been done before at Wabash, and that was important to me."
Soon after his arrival and subsequent taxi accident, Carrillo volunteered to work at Puericultorio Perez Aranibar, an orphanage that houses, feeds, and educates children who have been abandoned, orphaned, or removed from their homes. Carlos's job was to clean, reorganize, and paint the home's library. Petruniw visited one day to help and was amazed to see his classmate taken into the children's hearts.
"The kids' eyes lit up when Carlos turned the corner," Petruniw says. "They would come running, and the younger kids would use him as a jungle gym. The older kids grabbed a basketball and insisted we play with them, even though the rims were bent and falling down.
"They always talked with Carlos because they knew he was really listening," Petruniw says. "Even though people from the United States and Europe frequently volunteered here, this was the first time the volunteer was an Hispanic male. In just a few weeks, Carlos had become a father figure to those kids."
Carlos completed the library but had to return to Lima when his classes began. When a dean from one of the local universities suggested he also teach English there, Carrillo found himself with a schedule too busy to allow him to return to the orphanage in the little time he had left in the country.
"He even sacrificed his weekends and some late nights during the week to help his class master English," Petruniw remembers. "Carlos spent hours correcting their essays because he remembered what it was like to struggle with English."
Just as he had in Mexico, Carrillo dove into the culture.
"Mexico was a rediscovery of me, newinsights into where I'd come from," he says. "Peru expanded on that. My initial interest was its history, but once I got there, it became the culture. I picked up the slang on the street, and Josh and I played soccer at night with locals there. It was almost as if I became Peruvian."
That empathy opened his eyes and conscience.
"On one side of the street where I lived was Miraflores, one of the most beautiful neighborhoods in Lima, and across the street people were living in shacks, struggling to live day-to-day."
Carrillo was most troubled when one of his host families would not allow him to invite over friends from the impoverished neighborhoods.
"I understand their fears, and I don't blame them at all," Carlos says. "But it's a symptom of a serious injustice, and I grew up in circumstances that were more like those of the people not allowed in the house."
His thoughts drifted back to the children at the orphanage where he'd worked. Petruniw says that Carrillo donated his entire final paycheck from his teaching job to Puericultorio Perez Aranibar.
"AT WABASH I HAVE LEARNED quite a bit and forged lifetime friendships, but my relationship with Carlos is different," Petruniw says. "Carlos pushed me as a man. He challenged me to make the most of my opportunities. He is that rare individual who can move a man to action."
Carrillo shifts uneasily hearing such praise. "Anything I've accomplished I've done with the help or shaping of others," he says. "I am a product of all those who have cared for or taken an interest in me."
Taking classes last summer at IUPUI with plans to enter law school, Carrillo says he's still not certain how he'll use the degree, or just what his career might be.
But when he thinks back on his four years at Wabash, he sees the faces of the children he played with; the Chamulans he worked alongside in Chiapas; Wabash brothers like Josh Petruniw, and mentors like Rick Warner and Sergio Castro.
He remembers the clear sense of his life's calling he found the night of that accident in Lima, when he told Josh that "now is the time to make a difference in the world."
History suggests his will be a work of honor.
Contact Carlos at carrillc@wabash.edu