A Role From God
by Evan West
Printer-friendly version | Email this article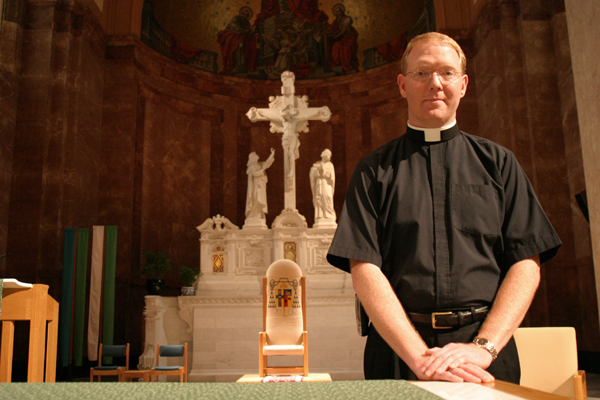 Sex-abuse scandals. The death of the powerful and charismatic Pope John Paul II. The election of Pope Benedict the XVI.
The past seven years have been eventful ones for the Catholic Church.
Father Pat Beidelman '94, ordained as a priest shortly after we interviewed him in 1998, has been there through it all. And if the changes that have swept through the church during his tenure have helped him realize anything, it's that, no matter the challenges, his joy in being a member of the church cannot be shaken.
"I take tremendous pride in the history shared by Catholics," he says.
Beidelman's relatively brief tenure as a priest has seen plenty of change as well. He has already served three parishes in the Archdiocese of Indianapolis, leading the construction of a new building at one parish and, in his words, "helping the community of worshippers become more vibrant during my time there."
Perhaps more importantly, he says, "I have begun to feel comfortable in my own skin as a priest." He's about to embark on another, bigger assignment as rector of the city's Cathedral Church.
Beidelman takes perhaps the greatest pride, how-ever, in his responsibilities as director of liturgy for Archdiocese of Indianapolis, which has him consulting with other church officials on the finer points of Catholic ritual and worship. In 2000, he organized a large archdiocesan celebration of the Jubilee Year at the RCA Dome, which drew 29,000 faithful and 19 bishops from around the country and bestowed confirmations on 3,000 young attendees.
In putting together these major liturgical events, Beidelman is best able to utilize the theatrical talents so central to his life during his Wabash days. Being experienced at performing before crowds, he says, prepared him for presiding over the worship of the congregated faithful.
"But now I'm not taking a role in a play," he says. "I'm taking a role from God—He's called me to be a leader of people."
Contact Fr. Beidelman at pjb1998@aol.com