Our Best Chance for Freedom
by Steve Charles
Printer-friendly version | Email this article
ASHRAF HAIDARI WAS STUNNED as every one else at Washington D.C.'s Georgetown University when a hijacked American Airlines 757 slammed into the Pentagon on September 11, 2001.
Shocked and saddened. But after hearing the name of the terrorist group behind the killings, not surprised.

"These were the same people who had terrorized my country for years," says the 30-year-old Afghan native. As a child he ran for his life in the streets of Kabul during the end of the Soviet invasion of his country, only to find himself a victim again as an adult under the Taliban's repressive rule.

"In the September 11 attacks, the United States suffered the hatred of these people—a disregard for life I don't think Americans could comprehend."

A Peace Scholar at Georgetown, with many friends and relatives living in Afghanistan, Haidari nevertheless supported President Bush's decision to attack his country in order to pursue Al-Qaida and root out the Taliban.

"It was heartbreaking, but it was also our best chance for freedom."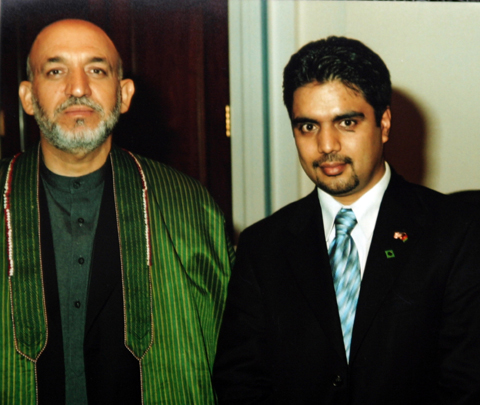 Today, Haidari is a spokesman for the Islamic Republic of Afghanistan that rose up from that war. As First Secretary at the Afghan Embassy in Washington, he is an official voice in the U.S. of that emerging democracy.

It's a role he never imagined when he graduated from Wabash in May 2001. He interviewed for jobs with relief agencies, hoping to tear down the barriers of prejudice toward the world's refugee populations. Granted asylum in 1999, he believed he might never go home.

"I look at my father, a pharmacist; my sister, a medical doctor; my brother, a civil engineer," Haidari told WM during an interview in March 2001. "Now they are refugees and jobless. They would go home if they could, but they cannot. And neither can I."

His experiences in refugee camps and his Wabash internship with the United Nations High Commissioner for Refugees prepared him well, but Haidari's asylum status limited his mobility in a field where travel is often a necessity. His stint with a relief agency based in Chicago was not what he had hoped, so in the late summer of 2001, he moved to Washington.

Wherever he went, Wabash seemed to follow.

"The Capital Association of Wabash Men was a huge help," he says, especially appreciative of David Pancost '69, who met with Ashraf several times.

"He got my resume out all over the city, and offered to help with housing, even funding," Haidari says. "Wabash students should know that wherever there is an alumni association, they have great support available."

A friend working as a research assistant at Georgetown helped Ashraf find a job in the office of the university's president. Later he was awarded a one-year fellowship in international diplomacy, and the next year he won the merit-based Peace Scholarship, which funded his two-year graduate studies at the school of foreign service and international security and development.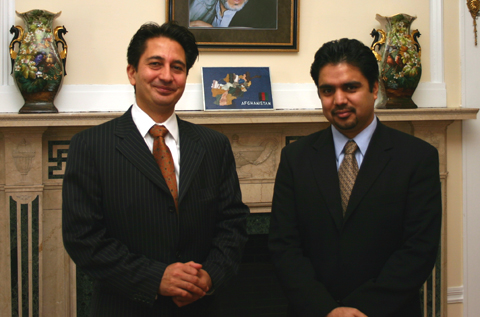 Haidari met Said Tayeb Jawad, the new Afghan ambassador to the U.S. and inquired about an internship. Jawad invited him to stop by the embassy. It didn't take long for the ambassador to realize the many ways Ashraf could help his country.
"At first we talked about my interning at the embassy and then working for President Karzai in Kabul after my studies were complete," Ashraf says. "But he offered me a second option—to begin working immediately and full-time at the embassy.
"I realized that our embassy here is really key to the process of rebuilding Afghanistan, and that I could be more helpful here now than I could be waiting to go help the president."
Ashraf took his position as government and media relations officer in April 2004 and was recently promoted to First Secretary.
Soon after joining the embassy staff, he was named advance man for President Karzai's appearances in Chicago during his first state visit to the U.S.
"I guess I'm not afraid to try anything," says the man who as a teenager was held hostage at gunpoint by a band of Afghan militiamen.
He still possesses the gentle, respectful demeanor of his Wabash days, but carries the added intensity of a man who understands the importance of every connection he makes for the fledgling republic.
"My experiences in the camps, in the streets, and at Wabash all contributed to the skills I'm using now," he says. "Helping with presidential visits, speaking for the embassy, or going live on TV and radio shows—I just do it. There's no time to be nervous; this is for my people. A chance for Afghans to tell our story. So many relief workers and so many others have gone to Afghanistan to help us, but at the end of the day, we Afghans must tell our stories, solve our problems, and ultimately take over the process of development. At the end of the day, we must stand on our own two feet to rebuild our country."
Near his office in the embassy, Haidari sits beside a painting of one of the Bamiyan Buddhas—the ancient statues carved from a cliffside that were destroyed by the Taliban, a gesture that defined Islamic fundamentalism for the world. The new government in Kabul plans to rebuild at least one of the statues.
"True Islam is about peace, unity, tolerance, and working together and consensus," Haidari says. "That is the faith that motivates me."
He recalls a class about the religions of India taught by Wabash Professor David Blix, a friend and one of his
most important Wabash mentors. "He taught us about the differences in these philosophies and religions, but he also pointed out that they had one thing in common—they all stressed doing good, not doing harm, and helping one another. That's the kind of Islam I believe in, the kind most Muslims believe in, and by doing good we champion and defend Islam."
In his current role, Haidari often defends his faith, or his country, against misconceptions.
"They said Afghans did not know what democracy is; that we're illiterate, uneducated and backward," he says. "But I come from among these people. We've had 30 years of war, hardship, and desperation, and we've learned a great deal. We know what democracy is, and we know the alternatives if we don't stand up and make our voices heard."
Haidari's biweekly newsletter, speeches to college students, and research papers on the challenges his country faces illuminate a part of the world too few took notice of until 9/11. He believes that the consequences of such ignorance are a lasting lesson of the 9/11 attacks.
"The international community failed to engage these terrorists in Afghanistan and fight terror before it targeted them in their own countries," he says. "The world must now see that helping Afghanistan is helping themselves, for the sake of their own security."
In May, just a year after he began working at the embassy, Haidari helped to plan another state visit for Hamid Karzai—this time as the first democratically elected president of Afghanistan to visit the United States. When Presidents Karzai and Bush signed the Joint Declaration on the U.S.-Afghanistan Strategic Partnership, Haidari released the following statement:
"By signing the joint declaration, the two leaders re-affirmed their commitment to bilateral cooperation to fight terrorism and narcotics, consolidate democracy in Afghanistan through institutional building and economic development, and enabling Afghanistan to stand on its own feet for the long haul."
Only four years out from taking political science and history courses in Baxter Hall, Ashraf Haidari was making history of his own.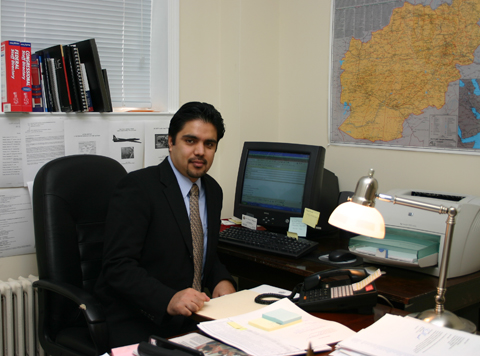 HE HASN'T TAKEN a vacation in his life.
"I've been on the run since I left Afghanistan," he says. "I do look forward to some time relaxing; I just don't know when. But I get this peace when I know that the lives of people in Afghanistan are changing for the better. Keeping Afghanistan in the media, telling the good news that the media doesn't focus on, I think I can make a difference in these very crucial days."
As caught up as he is in his work, you can practically feel his smile through the phone when he talks about his wife, Lina.
She is a writer and Farsi poet who, like Ashraf, was an Afghan refugee and, later, a political science major in college. She works as a broadcaster for Voice of America on programs focusing on the rights of women in her native country.
In the Afghan tradition, they spoke only after Ashraf spoke with his family (the couple's fathers are old friends), who arranged for the two to meet.
"I already knew of her commitment to the people of Afghanistan," Haidari says. "She has experienced hardships in life similar to my own. We had a lot in common, and I admire her personal qualities."
That last line evokes an affectionate laugh, and hopeful plans.
"Lina and I hope to return to Kabul this year to visit
my family," Ashraf says, imagining his first return to Afghanistan in nearly a decade, and his first reunion with his family in five years.
Almost 2,500 years ago, Euripides wrote: "There is no greater sorrow on earth than the loss of one's native land."
For two returning to their homeland, may there be no greater joy.
Photos: (top right) Haidari welcomed Afghan President Hamad Karzai and helped plan both of Karzai's visit to the United States; (middle left) Haidari with Afghan Ambassador to the U.S. Said Tayeb Jawad; (bottom right) Haidari at his desk in the Afghan Embassy in Washington, D.C.
Read Haidari's "Fighting Narcotics with Human Security"
Contact Ashraf at haidari@embassyofafghanistan.org