Dancing tradition
by Jim Amidon
Printer-friendly version | Email this article
Wabash's native Ghanian with the French surname graduates with a solid liberal arts base and a love for the culture that shaped him-a culture that has enriched the College, its students, and the community.
The first time Julian Moreaux performed with Wamidan, the College's African music and dance ensemble, he was so nervous he could hardly blow a note through his wooden Ghanian flute. Introducing the mostly white American audience to his culture's music, dress, and dance was such a difficult thing to do.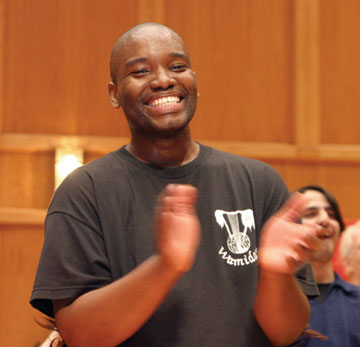 Three years later, Moreaux, Wamidan, and Wabash have changed. Thanks in large part to the senior triple major's work, Wamidan routinely fills Salter Concert Hall for its performances. Moreaux has taught dozens of students and local dancers the steps of his African heritage, and he's as relaxed onstage as he is while chatting with friends after the concert.
The transformation of the solitary Moreaux is almost as refreshing as the changes his performances have brought to Wabash.
"Being a part of Wamidan and teaching local dance groups Ghanian dance steps gives me a sense of not leaving my culture behind," he says. "I'm a French Ghanian who studied in a European boarding school in Ghana; all these cultures have claimed a piece of me. But the dances I teach and perform are traditional Ghanian, and that's important to me."
Moreaux's parents are both professionals in Accra. Because his father owns a travel agency, Julian and his three siblings have studied and traveled internationally. Julian, the youngest, studied at an international boarding school in Accra heavily influenced by the British system of education. Because so many professors and students came from outside Ghana, it was easy to adjust to new cultures and ideas. But it was also easy to lose a sense of his culture.
"Thankfully, we celebrated the independence day of every country represented at the school," says Moreaux. "The natives would cook national dishes, and we would learn the musical and dance traditions of each country. But almost nobody associated with the school knew anything about Ghanian culture and dance, so the principal brought in an instructor who taught us every Ghanian culture's dance."
With that background, Moreaux signed up with Wamidan in the spring of his freshman year. That was about the time director James Makubuya invited local middle and high school dancers to join the group. Moreaux would become the ensemble's official choreographer.
"It seems strange to say, but Wamidan is the most important thing in my life," he admits. "It is always fun, always challenging, and it's my escape from academia."
He needs the break. He's majoring in French, mathematics, and economics, has taken five or six courses every semester, studied in Paris last spring, gets around campus as a math tutor and computer center lab manager, and is on call for the Center for Academic Enrichment. In his free time, he sings in the Glee Club, Community Chorus, and Wabash Avenue Presbyterian Church choir.
"There are up sides and down sides to being a triple major," Moreaux explains. "I don't want to get straight As and be a bookworm completely engrossed in my studies. I'm happy with my B average, knowing I've been exposed to so many academic interests and have had time for Wamidan and Glee Club."
With such involvement in the Wabash and local community, it's hard to imagine that Moreaux has a hard time making friends. He says he came here as a very independent person from a boarding school, where he lived with only one other person in a small chalet. At Wabash, he had a single room in Martindale for two years, then studied alone in Paris.
He points out that his model for developing friendships comes from his parents, whose friends are people they've known a lifetime.
"Back home, my best friend is the son of my parents' best friends," he says. "We grew up and went to school together; our parents grew up and went to school together."
So while he may not have made dozens of life-long friendships at Wabash, he has chosen to introduce hundreds of people to his culture.
"I still have an element of aloofness about me," he explains. "I'm content being alone, but I've made a conscious effort to share my life with others. It has helped that I've spent the last eight years being exposed to very different people from all over the world."
He has, however, developed an attraction to Wabash, even though it was here that he first experienced a cold winter. He says he'll come back for reunions, but not only to catch up with classmates. "For me, Wabash is both its people and the place; the buildings and environment are important to me, too."
Once leaning toward graduate school, he's now thinking of working in the financial world as either an analyst, actuary, or in financial services. He's sent applications out all over the world, of course, and has applied to graduate schools from Indianapolis to Switzerland and all points in between.
"A job would allow me more freedom and independence to travel and do the things I want to do. I so enjoy being financially independent from my parents; it's very fulfilling," he says. "My dream is to get a job that would allow me to travel or move from one country to another."
And he could always fall back on food. He learned catering and cooking from his mother, and loves to entertain and throw parties with all sorts of interesting foods on the menu. About once a month, he rents a car and drives to Indianapolis for Thai, Indian, Mexican, or Greek food. Except for Indian food, he's been able to duplicate his favorite dishes and serve them to his roommates in their off-campus apartment house. He thanks his Crawfordsville host parents, Gary and Pat Stull, for showing him the town and region when he got here. "Because of them, I know my way around and know how to get to the good restaurants in Indianapolis!"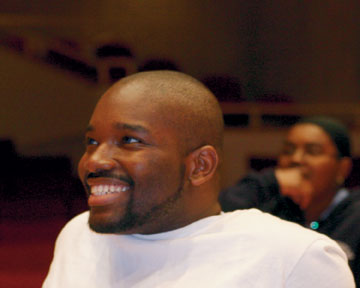 He may not call them friendships, but the acquaintances he's made through Wamidan have had an enormous impact. The group is stronger and more diverse than ever. How it holds up when Moreaux has graduated is anybody's guess. Julian certainly hopes traditional Ghanian dance will continue to be a part of the group's repertoire.
But for now, he's content. As the fall semester drew to a close, he was busy preparing papers and getting ready for three sets of comps. He made time to host the Wamidan end-of-semester dinner. The menu, of course, was international: Jollof, a Ghanian jambalaya of sorts, along with California rolls with shrimp, and some salmon and chicken thrown in.
"I've enjoyed my time at Wabash and in Crawfordsville," he concludes. "But I'm ready to move on. I'm a city kid, and I miss the excitement of city life; I can easily see myself living in Paris, New York, or even Chicago."
And, through the dances and music has taught and embraced at Wabash, bringing his Ghanian traditions along with him.
Contact Julian Moreaux at moreauxj@wabash.edu