Admissions & Financial Aid
International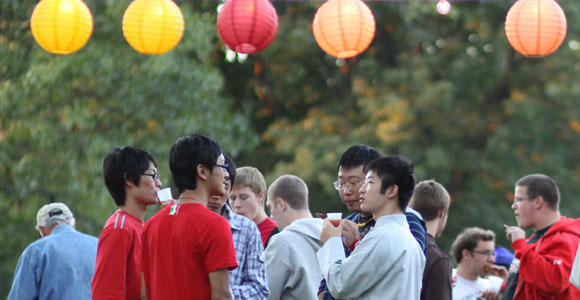 Wabash College has a long tradition of welcoming international students to campus. Approximately 900 men currently attend Wabash with more than 65 international students representing 13 different countries. Outside the United States, there are approximately 200 alumni living in 54 different countries.
Founded in 1832, Wabash College is a private liberal arts college for men located in Crawfordsville, Indiana. Wabash is dedicated to academic excellence and the development of leadership. The College's mission is to teach men to think critically, act responsibly, lead effectively and live humanely. Wabash challenges its students academically as they build lasting relationships at one of the nation's finest undergraduate colleges.
Academic Opportunities
Following four years of study, you will receive a Bachelor of Arts (A.B.) degree in any one of 24 academic areas. Majors are offered in art, biology, biochemistry, chemistry, classics, economics, English, financial economics, French, German, Greek, hispanic studies, history, Latin, mathematics, music, multicultural studies, philosophy, physics, political science, psychology, religion, rhetoric, Spanish, and theater. You can learn more at www.wabash.edu/academics
Students may minor in business, computer science, gender studies, international studies, multicultural American studies, and teacher education. Wabash also offers a business sequence and a dual-degree engineering program with Columbia University, Purdue University, and Washington University (St. Louis).
Wabash College is a residential campus where students are given a choice of living in a residential hall or a fraternity. The student body is highly involved in campus life with 10 varsity sports, 22 intramural sports, several club sports and more than 60 campus organizations entirely student-run and student-funded. Included are:
Honor Societies
International Student Association
Green Corps
Malcolm X Institute of Black Studies
Cricket Club
Musical groups
Pre-Law Society
Religious organizations
Theatre productions
The Bachelor, a weekly student newspaper and radio station
Explore www.wabash.edu/studentlife/clubs for a complete list of organizations.
Admission requirements
Admission to Wabash College is selective based on the secondary school record including courses, grades, recommendations, English language proficiency, and other information requested on the application form. Wabash admits students regardless of religion, race, disabilities or national origin.
Apply Online
International students are not required to pay an application fee when applying online to Wabash. To start your application, log into your eWabash account (login box on the left). If you don't yet have an eWabash account, click here to create one. This account allows you to work on your application whenever you wish and once submitted, you can track the status of your application to determine what materials still need to be submitted in order to complete your application. The online application is completely secure, and only you can access your information. This file includes all supporting materials, such as the International Secondary School Report, the College Board's CSS/Financial Aid PROFILE, and International Student Certificate of Finances.
Wabash also accepts the Common Application, and we treat this application the same as we do our own application during the review process.
To be given priority consideration for need-based or merit awards, we must receive ALL of the following before February 1:
Admissions Decision
Wabash admits students with a high level of demonstrated intellectual potential and an equally high level of achievement in the most rigorous academic program at their secondary school. The admission decision is made following a thorough and thoughtful review of the student's completed file. Priority consideration for admission to the College, as well as review for scholarships and need-based awards, is given to those students with a complete record on file by February 1.
Financial Aid
Because the cost of education in the United States may be prohibitively high for some international students, we encourage you to first explore all options for financing your education from personal funds and outside sources before applying for aid from Wabash. Students are eligible to compete for Wabash College merit-based scholarships; however, we remind you that the number of scholarships is limited and our applicant pool is large and talented so only qualified applicants with a completed file on record will be offered an award. These awards are earned through competition and are renewable for four years provided the student maintains standard academic progress.
Need-based awards are also available; however, NO AWARD PACKAGE WILL COVER ALL EXPENSES. Students must provide complete financial information (i.e. savings, investments, salaries, etc.) so that Wabash can best assess the student's financial need. A typical need-based financial aid package may consist of a combination of campus employment, loans and a very limited number of grants in addition to any merit-based scholarships that may be awarded. Travel expenses and summer expenses will not be covered by an aid award. In order to be considered for admission and financial assistance, all applicants must be able to document the ability to provide for expenses not covered by even our best awards.
Additional information about yearly costs and scholarships can be found at www.wabash.edu/admissions/finances/international and at www.wabash.edu/international/financial_questions
Deadlines and Notification
This information can be found at www.wabash.edu/admissions/apply/freshman_schedule.
Important Web Sites
Wabash College International Students Office: www.wabash.edu/international/
Helpful Sources of Information and Financial Assistance for International Student Applicants www.wabash.edu/international/int_exploring
Contact Information
For inquiries about application, admissions status, financial aid, transcripts and recommendations, please contact:
Admissions Office
Mr. Walter Blake
410 West Wabash Avenue
P.O. Box 352
Crawfordsville, IN 47933 USA
blakew@wabash.edu or 765-361-6379
For inquiries about visas and international student life, please contact:
Office of International Students
Ms. Amy R. Weir, Director of International Programs
301 West Wabash Avenue
P.O. Box 352
Crawfordsville, IN 47933 USA
weira@wabash.edu or 765-361-6078
Mr. Blake will be your primary contact while working with the Admissions Office during the application and admissions process. If you are admitted to Wabash College, it is critical that you contact Ms. Weir immediately following receipt of your letter of Admissions so that he can guide you through the VISA process. Ms. Weir will guide you through that entire process and assist you with preparations for arrival in Indiana, International Student Orientation, and throughout your years at Wabash College.
Please follow this link: www.wabash.edu/international to the International Student Office for precise instructions regarding your visa eligibility document (I-20 or DS-2019).