Wellness
Facilities
Our Allen Athletics and Recreation Center offers facilities for serious athletes and casual fitness fans alike. That's why the Princeton Review ranked Wabash's athletic facilities fourth best in the country in the 2012 Best 376 Colleges guide.
Nestled on the upper floor is our Student Health Center, where Doctors John Roberts '83 and Scott Douglas '84 — and Nurse Carol Lamb — have clinic hours every day during the week.
When you're ready to get in shape, lose some pounds, or prepare for a varsity season, head over to the Allen Center, where coaches, trainers, and strength coaches can design a perfect program for you.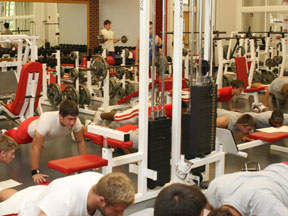 For working out, there's no place better than our Class of 1952 Fitness Center. At 7,000 square feet, there's plenty of room for heavy lifters and stair climbers. A combination of Cybex and Hammer Strength equipment, as well as free weights and aerobic fitness equipment, allows each user to tailor a workout to their specific needs.
Knowling Fieldhouse boasts a 200-meter Robert H. Johnson Indoor Track, along with four full-sized basketball courts, which can be configured for use for volleyball and other intramural sports. Our baseball and golf teams also have elevated cages for off-season practice. When the weather is good, our walkers and joggers head outside to the J. Owen Huntsman Track inside Hollett Little Giant Stadium.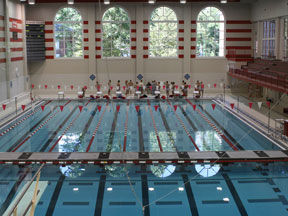 Swimmers love the Class of 1950 Natatorium, which features an eight-lane, 40-yard pool with movable bulkhead that allows for lap swimming and varsity swimming and diving practice.
The Allen Center has racquetball courts and an aerobics room, plus a classroom, a dozen locker rooms, and a training room that can get you ready for your workout.