Student Life
Athletics & Intramurals
Wabash Always Fights!
Don't get us wrong — Wabash isn't all work and no play. Visit campus at Homecoming, for Monon Bell Weekend, or hang with the "Chadwick Crazies" and you'll see the true spirit of the place and the men who study here. You'll also see why the Princeton Review ranks ours among the nation's "Best Athletic Facilities" every year. From Hollett Little Giant Stadium to Goodrich Ballpark to the Shelbourne Wrestling Center, Wabash's facilities are outstanding for student-athletes and fans alike.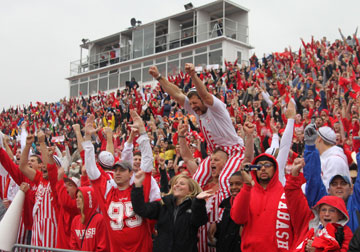 Wabash men love to compete and they love to win. Since 1866, the Little Giants have won well over 180 conference, state, and national championships, and produced 415 All-Americans. While there is a strong desire to compete, Wabash men also realize that athletic and academic achievement go hand-in-hand. Our proof is in our results — Wabash ranks among the nation's leaders for graduating students who receive the prestigious NCAA Postgraduate Scholarship (9), and 29 of our men have been named Academic All-Americans.
"Wabash Always Fights," our school motto, rings true for all of our varsity and club teams. The motto was on display when Wabash's football team came from 21 points down in the fourth quarter to beat North Central in the second round of the playoffs in 2011, and when Riley Lefever '17 pinned his opponent to win his fourth straight individual National Championship and propel his team to third place in the team standings (the third straight year Wabash finished in the top four). There is no better example of Wabash spirit than the annual Battle for the Monon Bell with DePauw, which attracted 10,000 fans to our stadium in 2016. The Little Giants won seven straight from the Tigers from 2009-2015.
In 2011, Wabash became the only North Coast Athletic Conference team in history to claim five conference championships in a calendar year — taking titles in indoor and outdoor track championships, as well as conference titles in baseball, football, and cross country. Wabash has produced nine individual National Champions in the last seven seasons.
Wabash men play because they love the game, not for fame or accolades. We offer no athletic scholarships and limit practice time to a couple of hours each day, ensuring that excelling in the classroom is our expectation of every young man who wears a Wabash uniform. Balance in all aspects of life is daily practice here. Exceptional achievement in academics, the arts, and athletics attest to this fact.
Wabash's intramural teams are about as competitive as most high school all-star teams. That's why everybody plays. Eighty percent of Wabash men compete in one or more of our highly competitive intramural and club sports. Typically organized by living unit with round robin and tournament competitions, intramural events include (among others) basketball, bowling, flag football, soccer, and softball.
Wabash Athletics Quick Facts:
Over 150 years of heart-pounding, competitive competition (we played and won the first intercollegiate baseball, basketball, and football games ever played in Indiana.
415 All-Americans, 180 team championships, 29 Academic All-Americans, and 9 individual national champions.
Wabash ranks 5th in Division III history with 672 football wins, and has won over 600 dual meet wrestling matches.
Wabash's wrestling team placed in the top-10 four straight years — 9th in 2014, 3rd in 2015, 4th in 2016, and 3rd in 2017.
Riley Lefever '17 is just the second wrestler in Division III history to win four straight individual National Championships. He was also a two-time Most Outstanding Wrestler and Most Dominant Wrestler in Division III.
Twenty-nine Little Giants have earned All-America honors in track and field since 2010, including two-time National Champion Jake Waterman and National Champion Kevin McCarthy.
Over 40 percent of all Wabash students participate in intercollegiate athletics, and about 80 percent are active in intramural sports.