Student Life
Arts
Creativity Abounds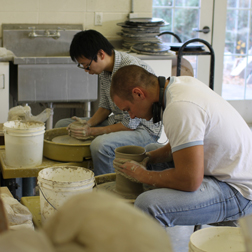 At some schools, the creative student is the exception. At Wabash, creativity and innovation are pretty common attributes in our students. We pride ourselves on the fact that a chiseled linebacker on our football team has a delicate hand as a sculptor and a tenor in the Glee Club is also editor of the school paper.
Creative students excel at Wabash because our arts faculty nurture and value their gifts. State-of-the-art facilities, a range of performance ensembles, and the Fine Arts Scholarship program are proof of our commitment to the well-rounded student.
Our results speak for themselves: Wabash men have earned entrance to exclusive film schools at USC and Columbia; received MFA degrees at schools like Yale; designed lighting on Broadway; helped curate exhibitions at major museums; created award-winning films; and designed costumes for Saturday Night Live and 30 Rock.
Visual art students create masterpieces in the Randolph Deer Art Wing in the Fine Arts Center. Spacious, well-lit studios are ideal for painters and sketchers, while sculptors can throw pottery, pour bronze, and weld, twist, cut, nail, and construct in a state-of-the-art facility.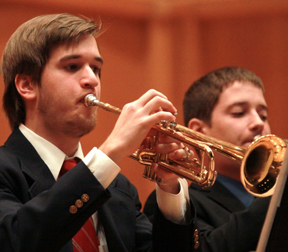 Theater students perform three large, main-stage productions each year in either the 375-seat Ball Theater of cozier Experimental Theater. Students also write, direct, and star in their own productions every November in the Studio One-Acts.
Singers and musicians practice in a dozen individual practice rooms and perform in the acoustically stunning, 275-seat Salter Concert Hall. The Glee Club travels across the country and around the world performing at least a dozen concerts every year. There are plenty of ensembles — from the Chamber Orchestra and Jazz Improv Group to the Wamidan world music ensemble.
Amateur film-makers can take classes on film, then check out high-end digital video cameras from IT Services to shoot their own movies. The Media Center is loaded with powerful computers and top-shelf editing software to create films that will knock the socks off any YouTube audience.