A punishing running attack complemented a stifling defense Saturday leading the Wabash College (6-1) Little Giants to a 30-0 victory over Wooster (2-5).
"It's almost impossible to get a shutout anymore," Coach Erik Raeburn said. "From start to finish, our defense put forth a tremendous effort."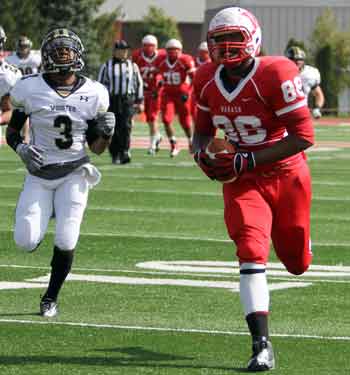 The defense's biggest challenge was Wooster's athletic quarterback, Richard Barnes. He was the Scots' best option throwing and running the ball, but was held to a modest 160 yards of offense.
"We wrapped up the quarterbacks (instead of touching) every single play in practice last week," linebacker Cody Buresh said. "We knew we had to do a good job against him and the extra work paid off."
The defense sacked Barnes 4 times and had another 3 quarterback hits. He was also battered on his 18 rushing attempts. The bruising hits worked well with a Wabash run game that hasn't been stopped in four weeks.
The Little Giant offense pounded out 295 yards, led by Tyler Holmes' 189 on 25 carries.
"We came off the ball really well again," Raeburn said. "Obviously, we play our best when we run the ball and that was our goal today."
Wooster was unable key on the run despite starting quarterback Chase Belton not playing. Belton suffered a concussion last week at Washington University. Junior Andy Walsh made big throws to keep the defense honest.
"The offensive line was phenomenal all day long," Walsh said. "I was only sacked once and that was because I held onto the ball too long."
Walsh finished the day with 3 touchdowns, 2 coming through the air and another on a hustle play.
Walsh got started with 3:07 left in the first quarter when he found a wide open Darren Bost streaking across the middle.
"The defense bit hard on the play fake," Walsh said. "It was quite obvious the defense was making sure to check the run game first. That's a credit to our line and backs."
Bost's first career touchdown pushed the Wabash lead to 10-0 after an early field goal by Brock Smith. Smith replaced an injured Ian McDougall and was a perfect 3 of 3 on extra-point attempts as well as the made field goal.
"I had a few jitters in the locker room, but when I got onto the field there was nothing," Smith said about his first start.
The play of the game was made by Buresh on the second snap of the third quarter.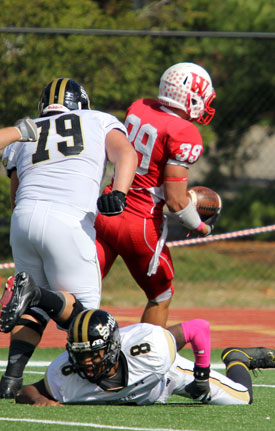 After a Buresh sack, Wooster was forced into a second and long. The Scots decided to make the "safe" call by throwing a screen pass. Buresh reacted to the running back sneaking out of the backfield by invading the passing lane and tipping the pass. He came down with the ball and scampered 26 yards for the touchdown. It was the first of his career.
"That was fun," he said in a light, matter-of-fact tone. "I was on a peal blitz. The running back went out so I followed him and was able to make the play."
Scoring continued in the third quarter with a leaping touchdown catch by Jon Laird, 23-0. The final points came on a Walsh run. He attempted to plunge his way in from the one-yard line before bouncing it around the edge.
Running back CP Porter rushed for 79 yards but suffered a serious injury. He broke his leg on a run play in the third quarter.
Denzel Wilkins led all Wabash defenders with 10 tackles in his first game back after missing multiple weeks with leg injuries. He also added 2 sacks. Buresh had 8 tackles to go with his sack and pick six while Nate Scola accounted for 5 tackles and a sack.
The Little Giants will face their toughest test of the final three games Saturday at 1 p.m. when they travel to unbeaten Ohio Wesleyan University