A Wabash Homecoming
by Richard Paige • October 5, 2016

Share:
Wabash College welcomed alumni and friends to campus as it threw open its doors for Homecoming Weekend festivities, which began Thursday.
The weekend opened with Chapel Sing, one of Wabash's most cherished rites of passage in front of Pioneer Chapel. Members of the Class of 2020 were tested on their knowledge of the words to "Old Wabash," one of the nation's longest fight songs.
Thursday evening marked the beginning of the Leadership Summit with a keynote address by Anne Walsh, Assistant Chief Investment Officer, Fixed Income, for Guggenheim Partners. Her address was "Creative destruction is now commonplace....why liberal arts matter even more."
The Summit, which continued through Saturday, brought together the leaders of the National Association of Wabash Men, the Parents Advisory Committee, and the Liberal Arts Plus initiatives to meet, strategize, and collaborate.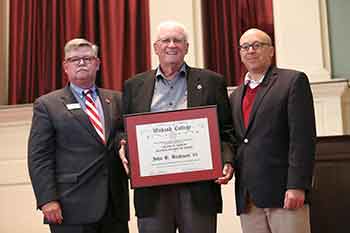 Alumni took center stage on Saturday, Oct. 8, with a multitude of activities. Primary among those is Homecoming Alumni Chapel. The NAWM general meeting, which celebrates the spirit of Barney Hollett '36, recognized alumni service winners:
Jeremy Wright Young Alumnus Award: Joseph P. Trebley '01, President and CEO of Monon Bioventures, Fishers, IN
Fredrick J. Urbaska Civic Service Award: Todd D. Barton '00, Mayor, Crawfordsville, IN
Clarence A. Jackson Career Service Award: Christopher J. Denari '83, lead television play-by-play voice, Indiana Pacers and Indiana Fever, Carmel, IN
Frank W. Misch Alumni Service Award: John B. Bachman '61, Bachman Financial, Noblesville, IN
Honorary Alumni: Nancy J. Doemel, posthumous, Crawfordsville; William N. Doemel, Crawfordsville; Carol L. Runge, Lafayette, IN
Additional awards were given on Friday included: Cal Black '66, induction into the Class Agent "Hall of Fame" and the Warren Shearer Award; Jason Bridges '98, Career Services Fellow; Kyle Bender '12 and Tyler Wade '12, R. Robert Mitchum Award; Hugh Vandivier '91, Myron Phillips Class Agent Award; and Morgan Nolan '07, Alumni Admissions Fellow.
The Celebrating Leadership Luncheon honored the tradition of philanthropy at Wabash and celebrated the most recent success of the Annual Fund. The soccer team nearly edged out Oberlin in a tough 2-1 double-overtime battle, while the football team easily routed the Yeomen 51-0.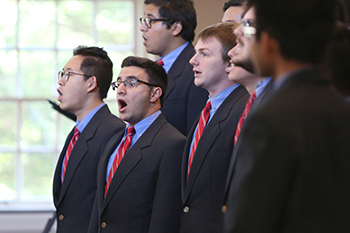 The weekend was capped by the Glee Club Homecoming Concert with a sampler of Glee Club favorites including "Old Wabash" and the final performance of the five-time Tony Award-winning play Peter and the Starcatcher.
More News
---
---
Photo Galleries

2016 Glee Club Homecoming Concert