Nineteen graduating seniors were inducted into the Wabash College chapter of Phi Beta Kappa on Saturday afternoon during Commencement Weekend.
See a photo album from the event
here
.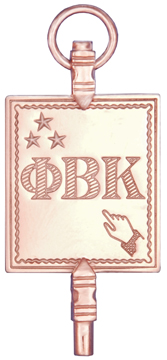 Phi Beta Kappa is the nation's oldest academic honor society. Founded in 1776, Phi Beta Kappa's motto is "Love of learning is the guide of life." Only 10 percent of all colleges and universities have Phi Beta Kappa chapters and only 10 percent of graduates of arts and science programs at those distinguished institutions are selected for membership in Phi Beta Kappa.
Senior inductees include Adam Auter (Granger, IN), Alex Avtgis (Munster, IN), David Birrer (Indianapolis), Adam Brasich (Fort Wayne, IN), Kenneth Coggins (Tulsa, OK), Austin Flynn, Redkey, IN), Jacob German (Crawfordsville, IN), Filip Lempa (Bytom, Poland), Nathan Line (Crawfordsville, IN), Lucian Lupinski (Zionsville, IN), Chris McCauley (Richland Hills, TX), Michael Nossett (Brownsburg, IN), Mike Purol (Indianapolis, IN), Luke Robbins (Indianapolis, IN), Bogdan-Gabriel Stancu (Bucharest, Romania), Brandon Tritle (Valparaiso, IN), Will Weber (Leo, IN), Chadwick Woods (Greenfield, IN).
Each year, exceptional members of the junior class are also inducted. This year's junior inductees into Phi Beta Kappa are Robert Cassady (South Bend, IN) and Zachary Rohrbach (Indianapolis, IN).
Membership in Phi Beta Kappa shows commitment to the liberal arts and sciences, and to freedom of inquiry and expression — and it provides a competitive edge in the marketplace. Potential employers regularly contact the national office of Phi Beta Kappa to confirm the membership of job seekers who have listed Phi Beta Kappa among their credentials.