Rhoads Takes Eighth at NCAA Wrestling Nationals
by Brent Harris • March 12, 2011

Share:
Junior Greg Rhoads finishes eighth in the 184-pound weight class at the 2011 NCAA Division III Wrestling Championship Tournament to earn All-America honors for the first time in his career.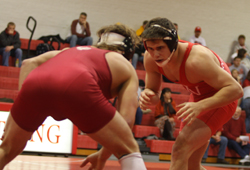 Rhoads opened competition in morning session against Dustin Baxter from St. Johns. Baxter scored an early takedown and two near fall points before Rhoads got an escape to make it a 4-1 match. He closed to 4-2 with another escape after starting the second period in the bottom position. Baxter answered with an escape in the third period and earned an extra point for riding time for the 6-2 victory.
Rhoads faced off against seventh-seeded Josef Rau from Elmhurst in the finals. Rau lost 4-3 to Alex Martocello from York College in the other consolation quarterfinal. Rau jumped out to an early 8-1 lead in the first period before Rhoads mounted a late rally. The Little Giant junior a takedown to start the third period, then received two penalty points to close to 8-5. However, Rau finished with more than a minute of riding time at the end of the match to win 9-5.
Rhoads is the first Wabash wrestler to finish in the top-eight since Keith Garrard took fifth place at 197 pounds at the 2007 Nationals.