In Memory of General Earl Johnson
• January 18, 2010

Share:
Major General Earl L. "Punk" Johnson (USAF, Retired) passed away at his home in Orlando, FL on Thursday, January. 14. He was 93.
A memorial service will take place at 2 p.m. on Saturday, Jan. 30 in the Wabash College Chapel. Johnson will be laid to rest at Oak Hill Cemetery in Crawfordsville, IN with military honors.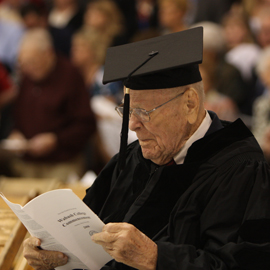 His military career began in January 1941 when he entered the Army Air Corps and entered flying training at Darr Aero Tech, Glenview, IL. Six months later he received his pilot wings and commission as a second lieutenant at Maxwell Field, AL.
During World War II, he served as a pilot instructor and was then sent to Turner Field, GA, as a twin-engine flying instructor and later became a flying training squadron commander. In July 1942, he was named group operations officer with the Advanced Twin-Engine Flying School, Blytheville, AK. Two years later, he attended B-17 transition school at Lockbourne Air Base, OH, followed by B-29 training at McCook, NB.

In January 1945, Johnson left for North Field, Tinian Island, as operations officer for the 1st Bombardment Squadron of the 9th Bombardment Group. He served as mission commander in the first low-altitude fire bombing missions against Tokyo. Later, he was reassigned to the 313th Bombardment Wing and became responsible for theater training for the atomic bomb crews of the 509th Composite Group. This was followed by his advancement to Director of Operations for the 313th Bombardment Wing.

In October 1945, he was the lead aircraft commander of a flight of three B-29s flying from Guam to Washington, D.C., via Karachi, India, and Frankfurt, Germany. Upon his arrival in the United States, he was assigned to Second Air Force, Colorado Springs, CO, where he stayed until December 1946 when he left active military service.

He was recalled to active duty in September 1948 and assigned to the Twentieth Air Force with headquarters on Guam. He served as director of flying safety and then as the inspector general. From July 1949 until January 1950 he commanded the 93rd Bombardment Squadron, also on Guam.

Johnson became the director of operations of the 9th Strategic Reconnaissance Group, Fairfield-Suisun AFB, CA. From June 1950 to July 1954, he served as commander of the 23rd Strategic Reconnaissance Squadron; chief of maintenance of the 5th Strategic Reconnaissance Wing; and then director of materiel for the 5th Bombardment Wing. In June 1954, he was assigned as a student in the Air War College and graduated in June 1955.

In July 1955, Johnson was assigned to the Policy Division of the Directorate of Personnel Planning, Headquarters U.S. Air Force, Washington, D.C. During his four-year tour of duty in the Pentagon, he worked on major personnel legislation. From July through November 1959 he attended B-52 Transition School at Castle Air Force Base, CA.

The following month, he was named the deputy commander for maintenance for the 72nd Bombardment Wing, Ramey AFB, Puerto Rico. In July 1960, became the vice wing commander. Johnson assumed command of the 4135th Strategic Wing, Eglin AFB, FL in June 1962 and in August 1963 he moved to Westover AFB, MA to become the inspector general of the Eighth Air Force

In November 1964 he went to McCoy AFB in Orlando, to assume duties as commander of the 306th Bombardment Wing. In September 1966 Johnson and the wing were deployed to Andersen AFB, Guam, to become part of the 4133rd Bombardment Wing (Provisional) with Johnson as wing commander. Prior to his return to the United States in March 1967 he was decorated by the Republic of Vietnam Prime Minister Nguyen Cao Ky with the Republic of Vietnam Air Force Distinguished Service Order, First Class. The presentation was made on Guam during the conference between President Lyndon B. Johnson and Prime Minister Ky.
Upon completion of his temporary duty tour on Guam, Johnson returned to McCoy AFB.
It was during Johnson's command at McCoy that he and Under Secretary of the Air Force Lew Turner collaborated with Orlando Mayor Carl Langford to allow commercial airlines to utilize McCoy's runways when not in use by B-52 and KC-135 squadrons. At the time, Orlando didn't have an airport that could accommodate large jets.
This collaborative effort was also in response to Walt Disney's plans to build Walt Disney World. McCoy AFB closed in 1972 and the property was sold to the City of Orlando for one dollar. The former base would eventually become the site of today's Orlando International Airport.
Following his assignment at McCoy, Johnson became commander, 823rd Air Division at Homestead Air Force Base, Fla., in July 1967. He returned to Guam in July 1968 as vice commander, Third Air Division, with headquarters at Andersen AFB.

Johnson was assigned as the assistant deputy chief of staff, operations, Headquarters Strategic Air Command, at Offutt AFB, NB in April 1970. The next month, he was promoted to major general.
He retired from the Air Force in February 1972 after 31 years of service. His military decorations included the Legion of Merit with oak leaf cluster, Distinguished Flying Cross, Bronze Star Medal, Air Medal with two oak leaf clusters, Air Force Commendation Medal, Army Commendation Medal with oak leaf cluster and the Distinguished Unit Citation Emblem. He was a command pilot.
Following his retirement, Johnson returned to Orlando where he built Orange Tree Country Club for a group of Michigan-based developers. He became a real estate broker, specializing in commercial properties, and later established Real Property International, Inc.
In March 1995, Johnson was invited to address the Foreign Correspondents in Tokyo, Japan during the 50th anniversary of the fire bombing missions against Tokyo. His moving account of the dangerous mission and aftermath appeared on CNN, NBC, ABC and CBS. During one interview on CNN, Johnson appeared alongside a Japanese woman who had lost her entire family during the bombing he lead. She presented him with a small origami crane symbolizing honor and loyalty.
In May 2008, Johnson received his
h
onorary doctorate degree from Wabash College
, 70 years after receiving his BA degree.
Johnson married Peggy Ruth Hearn of LaGrange, GA in May 1950. She passed away in Orlando in 2001.Johnson is survived by a daughter, Donna Dawson of Redlands, CA; granddaughters, Karen McClain of Yucaipa, CA, Kim Dawson of Beaumont, CA, and Kelly Brady of San Jose, CA; and five great grandchildren.
The Dawson family extends an invitation to Johnson's many friends in and around the Orlando area to pay their respects this Saturday, Jan. 23 from 2 to 5 p.m. at their home located at 9040 Bay Hill Blvd. in Orlando.