Two Wabash College juniors will be spending a big part of their summer in Europe studying and improving language skills thanks to the Kenneth Rhys Rudolph Memorial Fund for European Summer Study Abroad.
Alex Ingram '10 and Michael Vick '10 are this year's recipients. The Fund was established in 2006 by Rudolph's parents after Ken's death in an automobile accident. The Fund provides need-blind financial support for Wabash students to study in Europe during the summer months.

Ingram will be studying in France. "I plan on learning as much as I can about French political institutions," the Pendleton, Indiana, native said. He will be taking language and cultural lessons through the Alliance Francaise program.
Ingram plans to attend law school after Wabash. He won the 2008 Moot Court competition and spent his spring break as part of the Wabash Externship Program in Washington, D.C. He is editor of Horizons, the campus social science research journal, and a columnist on nutrition and fitness for The Bachelor.
Vick, from Evansville, will be traveling to Germany and study language and culture at the Goethe Institute in Goettingen. He is a biology major with intent on becoming a doctor.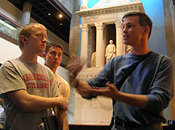 An immersion trip to Germany spurred his interest. "I knew that I wanted to not only be able to speak the language but also understand the German people," he said. He plans trips to several cities and historical sites.
"Not only is the classical literature beautiful, but the politics and debates following World War II and the Nazi era, the public perception of Europe and the German state, and even German scientific discoveries over the past few centuries are fascinating," he wrote in his letter of application.
His interest in Germany has led him to decide to double-major at Wabash in Biology and German.

Both students will be writing frequently during their time abroad. Look for their blogging efforts on the Wabash website.
Rudolph was a Ft. Wayne native who majored in religion while at Wabash. He was editor of the student political journal, The Commentary.
In photos: Top left, Alex Ingram. At right, Michael Vick during an immersion trip listening to Professor of German, Greg Redding. And at bottom left, Ken Rudolph.