Parrish Takes Over Ball State Football Program
by Brent Harris • December 18, 2008

Share: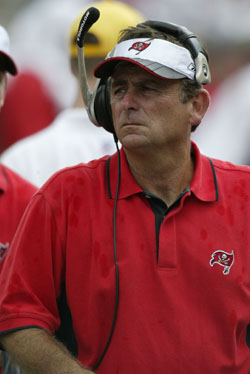 Former Wabash coach Stan Parrish has been named the new head coach for the Ball State football program.
Parrish posted a record of 42-3-1 as the head coach of the Little Giants from 1978-82 for a .924 winning percentage, the best winning percentage in the history of Wabash football. He left the Wabash program to take over as head coach at Marshall. Parrish also served as head coach at Kansas State and was an assistant coach at Michigan and for the NFL's Tampa Bay Buccaneers. He was part of the Bucs' 2002 Super Bowl championship team.
Parrish has served as an assistant coach at Ball State the past four season before being elevated to the head coaching position with the departure of Cardinals coach Brady Hoke for San Diego State. Parrish has helped Ball State to a 12-1 record, a Mid-American Conference Western Division title, and a berth in the upcoming GMAC Bowl.
Read the Ball State University press release here.
Photo courtesy of the Tampa Bay Buccaneers public relations office.