The Wabash College community mourns the passing of Emeritus Professor of Mathematics Bill Swift, who died peacefully in his home on Thursday.
William Clement Swift was born March 17, 1928 in Lexington, Kentucky.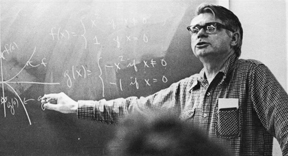 He earned his bachelor's degree from the University of Kentucky and was inducted in Phi Beta Kappa. He received his Ph.D. from Kentucky and received the Gerard Swope Fellowship and the Margaret Voorhees Haggin Fellowship.
He was an instructor at Kentucky and Cornell University, an assistant professor at Rutgers University, and spent two years with the Bell Telephone Laboratories.
Bill was also a sergeant in the United States Army, serving from 1946 through 1948 with the 1st Cavalry Division in Japan.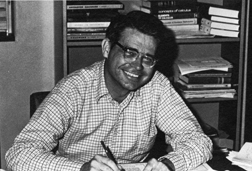 He came to Wabash in 1963 and taught mathematics until his retirement in 1990. He created the Mathematics Colloquium at the College, which remains the longest-running departmental seminar at Wabash. He was an active member of the American Mathematical Society and Mathematical Association of America, and held memberships in Sigma Pi Sigma, Pi Mu Epsilon, and the American Association of University Professors. He was also author of a mathematics textbook.
He and his wife of more than 50 years, Ellen, were tremendous community volunteers and leaders. Both were active in the Sugar Creek Players theater company and helped rebuild the Vanity Theater. Bill was also active in Boy Scouts and was a driving force behind the Sugar Creek Canoe Race. Swift was the public address announcer for a variety of Wabash sporting events, but was best known as the voice of the Wabash swimming and diving program.
In 1994, the National Association of Wabash Men honored Bill's lifetime of service to the College by naming him an honorary alumnus.
For the last 40 years or more, Bill and Ellen hosted a "Derby Day" party, which annually was one of the largest gatherings of Wabash and community people. The party was purely social, but paid tribute to Bill and Ellen's unwavering love of the Bluegrass State and did much to improve town-gown relations.
Bill is survived by his wife, Ellen, and their eight children — Tom, Bill, Jr., Mike, Matthew, Larry, Meg, Joe, and Jim.
Memorial Service arrangements are pending.