TKE, Delta Tau Delta to Dedicate Houses
by Howard Hewitt • August 6, 2008

Share: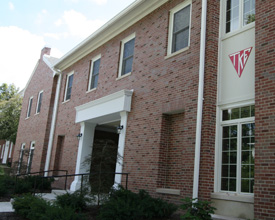 The new Tau Kappa Epsilon fraternity house and renovated chapter house of Delta Tau Delta will be dedicated on Saturday, September 20 before the afternoon football game against the University of Chicago.
Plans call for the new Tau Kappa Epsilon House to be open for tours at 9:30 with a dedication and flag raising at 10:30 a.m. at the house.
Delta Tau Delta will open its doors at 10:30 a.m. for tours with a dedication at 11:30 a.m.
The TKE dedication will feature a number of speakers and be hosted by TKE Jon Pactor '71, A speaker of note will be Atwood Smith '34. Smith and his wife were active in fundraising for the old Grant St. Tke house.
President Patrick White, Ken Schild '66, Gene King '78, Mike Raters '85, and current members are all on the program.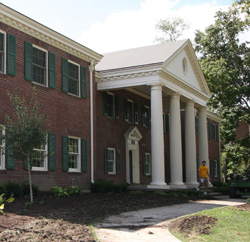 The Delts will get underway at 11:30 a.m. The President along with several alumni will be part of the ceremonies. One of the special guests will be Perry Lewis '43 and his wife. They have named the Chapter Room in memory of their son, Perry Lewis '72. Julian Piercefield and his wife will be here from Florida. They are naming the landscaping in memory of their son David Piercefield '80.
The new TKE House has beds for 40 students. Construction began last year with the final work completed this summer on the $4 million project.
The Delta Tau Delta project, with beds for 63 students, was spread over two summers. Last year construction included the basement, kitchen, and dining room. This year the renovations re-configured and re-modeled student rooms.
The last of the fraternity house projects is underway. The old Kappa Sigma House has been demolished and work on the foundation for the new house has begun. The Kappa Sig house will be designed with 50 beds.