It would be tough to top Adrian Pynenberg's freshman year at Wabash College. But that's what the sophomore linebacker hopes to do.
Pynenberg came to Wabash from Oswego Community High School in Montgomery, Illinois, where he led the Panthers to the Class 7A state football title as the team's defensive MVP. He stepped into a starting role at linebacker for the Little Giants, leading the team in tackles with 86 as a rookie.
"It was a very fast learning curve," said Pynenberg. "I had to pick everything up from day one. I was fortunate to have excellent upperclassmen to learn from last year."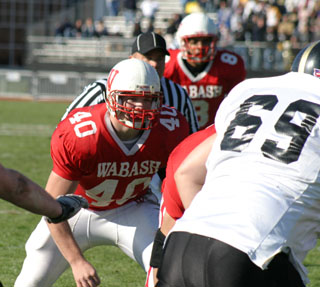 This year he's become the instructor, working with other players on the Wabash squad as they prepare for the 2005 season.
"It's a different perspective this year," he said after the first few days of camp. "Lat year I was learning all the schemes and was the recipient of some great advice from experienced players like Aaron Selby and Tim Parker. This year I get to join them. I hope some of what I've been able to pass along to the freshmen during practice has been helpful. I hope they get a chance to learn something from me and the way I play."
Learning has never been a problem for Pynenberg. An Academic All-State player in high school, he was a Dean's List student in both semesters as a freshman while earning a place on the football team's Academic Top-Ten list.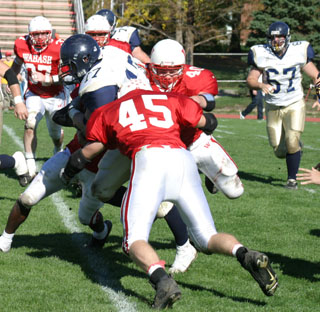 "Two of my most memorable moments as a freshman had to be stepping onto the field for my first Monon Bell game and receiving that first letter from the Dean's office letting me know I'd made the Dean's List," he said. "Even though we lost to DePauw, to be a part of that rivalry, to see the crowd, and to experience the game as a player was incredible. And to know that I made the Dean's List my first semester at Wabash meant so much to me. It was an unbelievable moment when I knew I had achieved that."
Pynenberg wants to make sure he keeps up his scholarly effort. He took a chemistry course over the summer so he could keep his fall schedule clear to include his regular class load, football practice, and fraternity activities as a member of Lambda Chi Alpha.
Brent Harris is the Wabash College sports information director.