Wabash College freshmen experienced the diversity of people, food and thoughts as they studied German immigration over Spring Break week.
The freshman tutorial, "The German-American Experience," mixed rural German settlement with urban immigration and gave the 10 freshmen on the Saturday-Thursday trip a more in-depth look at the Hoosier state. (Click on the two photo albums at bottom of this page for more pictures.)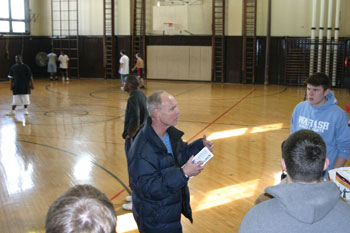 "I've heard a few comments from students that they seemed a little surprised by certain things," Professor Greg Redding said. "We take our home state for granted. We don't think often about Indiana, it's not quite the same as I've seen taking students to Germany - there's not the drama. But I've heard a few comments similar to what I've heard from students I've taken to Germany that they know they're someplace different. They're not in Kansas any more and it's that sort of objective distance you want to create through travel."
The students most frequently talked about their visits to the Archabbey at Saint Meinrad and to the Monastery atop the hill in Ferdinand. They strolled the historic village in New Harmony. Then switched focus to urban German immigration and "free thinkers" while visiting Cincinnati and Indianapolis.
If nothing else they got a frequent and authentic taste of German culture through food, feasting in four German restaurants in five nights.

The Tuesday visit to Cincinnati was somewhat abbreviated by snow and freezing temperatures. But they spent Tuesday afternoon with Don Tolzmann, the author of the textbook used in Redding's class. Tolzmann is the director of the German-American Studies Program at the University of Cincinnati.
The 10 Wabash men brought a divergent background to the trip. Julio Enriquez, from the Monterrey area of Southern California, was like most of the students who were unsure of immersion learning in Indiana.
"We got to meet the guy who wrote the book we've been reading all semester, so that was pretty cool," Enriquez said. "We got to go to the Monastery and New Harmony, that was like going back in time. We read about that but we were actually there looking at the old cabins and the old homes. All that felt like an immersion trip."
The trip ended Thursday with a visit to Amish farms in Davies County. The overnight trips ended with a Wednesday visit to Oldenburg and most of the day in Indianapolis. They met with members of the Indiana-German Society and toured the Athenaeum.
Enriquez was able to tie the German-American Experience to things happening in Southern California where he lives.
"Now when we're driving I try to see if the arch is representative of German architecture," he said. "I've also been thinking about back home. Professor Redding said Germans came here wanting to change their surroundings but they also wanted to feel at home. That's what Hispanics are doing back home. They're using a lot of Hispanic architecture."
Enriquez wasn't the only one on the trip with a unique perspective. Andreas Mankel, a native German and language intern working at Wabash this year, accompanied the students.
"In Southern Indiana I was quite surprised to see the big monasteries which looked pretty European and pretty German," the 23-year-old said. "And then the restaurants, the Schnitzelbank (Jasper, Ind.) and the Hofbrauhaus (Newport, Ky.), were almost surreal - to have those here and it was more German than the original German."
Mankel was able to answer the students' questions on authenticity.
"They always ask me, 'is this really like Germany and do houses look like this in Germany,'" he said of the their questions. "And I always had say, 'Kind of like that - it's probably more German than most other American buildings or houses, but it's kind of a blending of German and American elements.'
"The restaurants are not typically German, but typically Bavarian. It gives us only a small part of Germany, but Bavaria is in the south and differs very much from Eastern Germany, Northern Germany and the coastal areas."
The intense first-hand learning experience, plus six days of travel, is almost overload for some students. Redding had to occasionally remind himself that students can only absorb so much. But he was pleased with the result.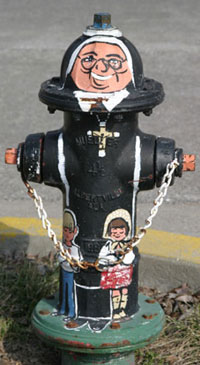 "I feel pretty confident that it's given them at least an overview of the diversity of German settlement to this area," Redding said. "So they've seen the rural Germans, and various aspects of rural Germany with the craftsman tradition and various religious traditions and so forth.
"They've also seen urban Germans and industrialists like Reitz, or the Germans of Indianapolis like the Vonneguts. So they've seen the whole mix of all the German immigrants that came over here in different ways. In that sense, I think it's been very successful."
Hewitt is Wabash College's Director of New Media and Web Content Editor.
In photos:
Above right: Jim Gould, a 1973 Wabash graduate and director of Athenaeum events, gives Wabash students a tour. They're standing in the original gym built by Germans for physical fitness, which is now part of a YMCA.
At left: The students visited a handful of German-built churches with stunning architecture, priceless artwork and furnishings, and century-old stained glass. The window above is just one example, it is in the Holy Family Church in Oldenburg, Ind. Oldenburg is three miles north of I-74 near Batesville.
Lower right: Apparently the community and the St. Francis nuns have a sense of humor as illustrated with this Nun-hydrant.
For more information see: