Wabash College administrators are expressing their gratitude to the alumni, parents, faculty, students, staff, and friends of the College who have enabled Wabash to stay strong and stable in a fiscal year filled with economic uncertainty and a rollercoaster of expectations.
"There are so many stories of generosity, imagination, and resilience that come to mind as I reflect on a truly historic effort," says Dean of Advancement Michelle Janssen after the announcement that the Annual Fund, which is made up of unrestricted support to the College and helps deliver the College's signature liberal arts experience to students every year, included gifts from more than 5,500 donors who gave more than $3.5 million—a new record.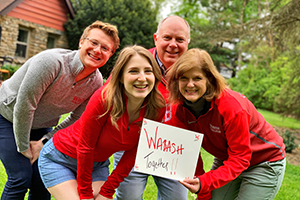 "The unyielding support of the Wabash community continues to amaze me," continues Janssen. "We often talk about the connections built at this place, but to see such generosity in wildly uncertain times speaks volumes to the importance the College carries for alumni and friends alike. That spirit is not lost on us. I'm also awed by our current students, who surveyed the rubble of their spring semester on campus, then turned right around and gave $80,000 on the Day of Giving."
The Annual Fund's success comes on the tails of a record-setting 5.12 Day of Giving for dollars raised ($1.2 million) and gifts (more than 6,000 total gifts). The newly created Student Response Fund was also a large contributor to the record-breaking year, raising over $160,000 to directly support retaining students and helping them graduate on time.
President Scott Feller was quick to express his thanks, too. "I was surprised when Michelle told me that we had a record-setting fundraising year in the midst of the coronavirus pandemic and in an era of so much economic uncertainty."
"But I should not have been surprised at all," said President Feller. "When I think back at all the ways the Wabash community has joined together to propel our College forward in these difficult months, I am inspired. The generosity of our students, alumni, parents, trustees, and friends will also motivate and inspire our students when they return to campus this fall."
Michelle Jansen became emotional thinking about the cumulative effort. "I think about President and Lora Hess and then-Dean Feller who made phone calls, sent texts, and wrote hundreds of personal 'in the moment' emails of gratitude to our alumni, friends, students, and parent donors. I think about our Board of Trustees, who soared in leading and giving this year. Finally, I think about the Advancement and Communications and Marketing teams that planned for not one, but two Day-of-Giving events when the April date proved unworkable."
Janssen added that overall, the College raised more than $25 million in cash for the fiscal year ending June 30, 2020, including external grants, to set another fund-raising record; this support has lifted the Giant Steps Campaign—which aims, among other things, to strengthen the College's ability to grant scholarships to students—to more than $194 million toward its $225 million goal.
"To witness such a collective effort is truly humbling."