Wabash College continues to rank among the best in the nation when it comes to the return on investment its students receive with a degree.
In its annual college guide: "The Best Value Colleges," The Princeton Review rated Wabash as No. 1 in both Best Alumni Network and Best Internship Opportunities, No. 22 in Best Schools for Financial Aid, and No. 26 out of 200 of the nation's Best Value Colleges.
According to The Princeton Review, Best Value Colleges for 2020 comprise only seven percent of the nation's four-year colleges.
"The alumni of Wabash are an essential element of all that we do at the College," said President Gregory D. Hess. "Our alumni, parents, and friends are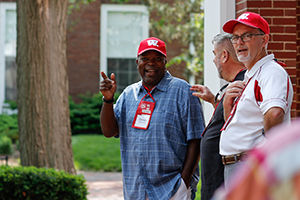 exceptional, and they are genuine in their interest in our students and support of them throughout their lives. And our Professional Development team, led by Steven Jones '87 and Roland Morin '91, do a remarkable job working with our young men to land meaningful, career-defining internships."
The Princeton Review chose schools based on return on investment (ROI) ratings it tallied for 650 schools last year. The selection process considered more than 40 data points, broadly covering academics, affordability, and career preparation.
Wabash stood strong in rankings associated with faculty accessibility and engagement, both receiving scores of 99. The College also received a financial aid rating of 98 (up five points from last year).
According to payscale.com, a Wabash graduate with a bachelor's degree can expect an early career median salary of $65,300 with a mid-career salary of $137,800.
"This ranking demonstrates what we already know: It takes the entire Wabash community to identify influential internship and employment opportunities for our students," said Dean for Professional Development Steven Jones '87. "To receive such lofty national recognition is both a reason to celebrate and encourage more tenacity and focus from our students as the competition for outstanding opportunities intensifies."