As the last notes of A Parting Blessing floated through a sold-out Knowling Fieldhouse and the Wabash Glee Club's 125th Anniversary Reunion Concert came to a close, it was hard to tell who enjoyed the performance more: the audience or the performers.
Certainly, the standing ovation from the nearly 600 in attendance on Sept. 30 was well earned, but the smiles of satisfaction on the faces of the more than 150 current and former Glee Club members were practically worth the price of admission.
"This was a great thing to feel that wonderful spirit I experienced when I was a member of the Glee Club," said James Hand '74. "Someone said there were seven generations of Wabash represented on those risers, and it's rewarding to be a part of it."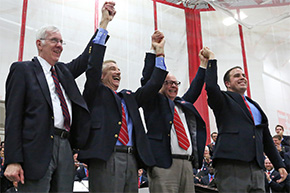 Running through a list 18 songs, the unified 125th anniversary choral grouping displayed musical ability well beyond their three rehearsals together. For some who hadn't sung in years, the musical chops quickly returned.
"Music was my artistic expression," said Rob Fleming '84. "I actually miss it. It's been really good to be back this weekend. I have not sung in a group since I graduated, and it came back like riding a bike. I've had a really good time singing and reconnecting with fellow Glee Clubbers. This weekend has been a real blessing."
For NAWM president and Glee Club alumnus Rob Shook '83, the reverberations were memorable.
"The sound of 150 voices on stage," he said, "you just get chills from that. It's exciting to come back and sing, and we knew this would be something special."