Making It Real
Printer-friendly version | Email this article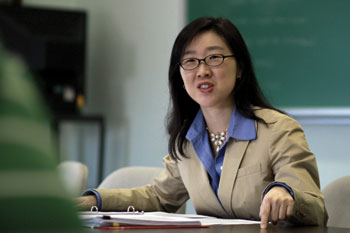 Christie Byun has turned one of the challenges of teaching environmental economics into an advantage for her students.
"In one way, environmental issues are perfect for economics," the Byron K. Trippet Assistant Professor of Economics says. "It's this nexus of a scarce allocation problem—you are trying to distribute scarce resources. At the same time, it's often difficult to measure, and you often have to figure out the value of a natural resource when there is no direct market price for it."
This concept of "contingent valuation" at the core of environmental economics can be tough for students to grasp. But with the help of Wabash alumni, Byun introduces it to students up close and personal.
The first year she taught the course at Wabash, Byun teamed with Friends of Sugar Creek Project Coordinator Nate Mullendore '07. He took the class to hillsides and stream banks eroded by the creek's frequent flooding (itself a result of development and farmers' aggressive drainage practices). Then he guided the group on a float down the creek and held a meeting with vendors whose livelihoods depend on its recreational use.
"The erosion was so bad that one house had to be demolished; otherwise, it would have eventually collapsed into the creek," Byun recalls. "The owners had to take a loss, and it adversely affected real estate values in the area. If you want a concrete example of why environmental economics matters, that was it. Seeing these sites and the damage in person helped students realize both the necessity and difficulty of formulating public policy to deal with these issues."
The third year she taught the course, Byun turned to manufacturing consultant Greg Estell '85 for a very different lesson. Last spring Estell arranged for a daylong visit to ATI Casting Service, a La Porte, IN, iron foundry whose products include diesel locomotive engine blocks, machine tool frames, and printing presses. ATI is also a producer of parts for wind turbines.
"They also use reclaimed metals and deal with all these green energy technologies, so it was an ideal place to study for many reasons," Byun says.
The plant manager gave students a tour through the molten casting process from beginning to end. The manager and ATI vice president then answered student questions and alerted them to career opportunities.
"Students were very interested in all of it—the engineering, the environmental practices, the industrial organization, data-gathering practices. And we had just driven through a wind farm to get there, so getting a detailed presentation about how they're put together, how they're used, the industrial organization of the plant that makes them was an ideal learning experience for the students.
"And for me, too," Byun adds. "[Wabash junior] Trevor Councellor's father owns a plant that manufactures a very different product, so this sort of augmented his knowledge, and his questions were helpful to all of us. And during the drive there
I learned that one of my students, Evan McFarland '13, is interested in environmental lobbying. We're working to find an internship for him."
Estell had first suggested the trip to ATI during a reception for faculty sponsored by the Indianapolis Association of Wabash Men.
"I can't thank Greg enough for arranging this," Byun says. "It's a gift to us to have alumni so committed to undergraduate education, and it's an honor to work with them, and to hear about their lives, the work they do.
"I think alums want to know what we do, and we certainly want to know what they do. That there can be such cooperation is very rewarding. These are the sorts of experiences that can make difficult-to-understand concepts very real for the students."