Lessons Learned Out of School
Printer-friendly version | Email this article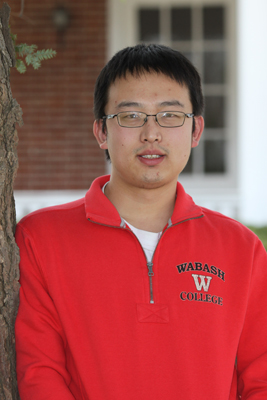 He rushes up the Kane House stairs for our interview at a pace and with a focus unusual for even the most driven Wabash student. Director of International Students David Clapp says that's typical Hao Liu—on the phone, texting between classes, reachable 24/7, just like the successful entrepreneurs he sought to emulate when he came to Wabash. Like the successful entrepreneur he has become.
At age 23, Liu is the co-founder of the SIE International Summer School Program, the first Chinese-run study-abroad program in his country.
"We saw the growing need for a more comprehensive and affordable study-abroad program in China, so I co-founded the company with my friend Yilin Xu from Harvard Law School in October of 2009," Lui says. "We hired 13 professors from American universities and colleges [including Wabash] to offer students around 30 courses. Two hundred thirty-four students from ten different countries and 72 different universities around the world attended the program. Most of them were Chinese students who were enrolled in universities and colleges in North America."
Encouraged by the success of the 2010 program, the company expanded for 2011. Then late last year, Liu's company received a multi-million dollar venture capital investment from a well-known firm in China.
"We are ready to expand to semester-long study-abroad programs as well as other international education fields," Liu explained just weeks before his graduation from Wabash.
The philosophy major, mathematics minor credits the College for much of his success, but admits that the quick takeoff of SIE owes more to the two years off he took between high school and Wabash.
"My father wanted me to learn firsthand about the business world, which proved very important," Liu says. "There are certain approaches you need to learn about the way we do business in China, and I learned those during these two years."
WM asked Liu: What did you learn about doing business in China?
Liu: If you want success in a field, research not only the company, but also the people you'll be dealing with. Before you approach a potential business partner, you attempt to establish private connections first. Before you meet, you need to know something about him. You have to show respect for him and his business, and you have to show great interest. You want to know his hobbies or other interests so you can have these very nice conversations. Then you have a chance of establishing a very good business relationship with him.
There are certain Chinese manners you must learn in order to do business. We always show respect for elders. At dinner, we drink. And you have to manage not to become drunk—you are meeting to get things done—but you also want to drink to a level where everyone is happy.
You've done business in both China and the U.S. Any other major differences?
Liu: In the U.S. when we talk about business, we're talking about business—we usually tell someone precisely what we're really thinking. In China, we may say, "Oh, your idea is great" or "I'll think about it," but actually that means "no" in China.
Have you noticed differences between the work ethic of American and Chinese students?
Liu: Hardworking is a common characteristic of Chinese students. We're here, we appreciate this opportunity, and many of us are also on financial aid and we don't want to waste our money.
I've heard some people call the Americans who grew up in the 1960s "a lost generation"—their living conditions were very, very good. But in China our living conditions are not yet good enough, and we know we are not good enough, and because my parents grew up in the great Cultural Revolution and experienced that, they know we have to catch up with the rest of the world.
—Steve Charles