Opening the World
Printer-friendly version | Email this article
Funded by a $700,000 grant from The Andrew W. Mellon Foundation and driven by student interest and faculty development, the College's liberal arts approach to Asian Studies has been more than 15 years in the making.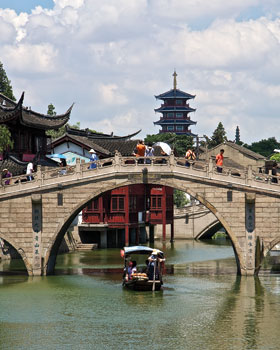 "You can't put this in the article," Kay Widdows says just a few minutes into our conversation about the College's new Asian Studies program. "But I know any number of places in Asia where I could take students and I know they'd be bitten by the 'Asia bug.'"
The John H. Schroeder Interdisciplinary Chair in Economics, Widdows winces at the thought of how such a statement might look in print. But she is a true believer in what Asia has to offer Wabash students. Working in Malaysia in 1993 and subsequent studies in Japan, Taiwan, and China changed her life.
"Going to Asia opened the world to me," Widdows says. "I've been to Europe and Latin America and they're wonderful. And this is not to say the U.S. isn't wonderful and diverse. But the cultural and religious traditions of Kuala Lumpur were so different from anything I'd ever experienced. I lived right next to the Blue Mosque, the call of prayer wafting on the evening air. I could not have imagined the kind of diversity I was a part of every day. It not only opens your eyes to that different place, but it makes you look differently at your own country."
So, where would she take students to give them "the bug?"
"In Japan, to the temples in Kyoto," Widdows says. "In China, to the Volkswagen factory in Shanghai. I would take them to Tiananmen Square. I would love to take them to Kuala Lumpur.
"I would take them to Ho Chi Minh City, where, when you come into port and need to get to the city there are no cabs. Instead, men on motorcycles are lined up, and you pay 50 cents to sit on the back, going to town and passing by all these small shops, little 'factories' with four or five people working in them, making all sorts of things. Talk about a vision of entrepreneurship!"
Widdows admits that such a sweeping immersion trip will likely remain the stuff of dreams, but it's a fitting metaphor for the interdisciplinary liberal arts approach the College is taking to its new Asian Studies program. And the vision, passion, and realization that the College needs to give students the opportunity to study the region are here and now.
Widdows, an economist, is one of six Wabash faculty—including Professor of Religion David Blix '70, Professors of History Stephen Morillo and Rick Warner, Professor of Modern Languages Dan Rogers, and Dean of the College Gary Phillips—who together with five DePauw professors comprise the steering committee charged with implementing the grant in their respective institutions.
And this summer the first of four groups of Wabash faculty members will begin their own studies at the East-West Center in Hawaii, each exploring Asia through their own disciplinary lenses, identifying new areas of research to pursue in subsequent years, and looking to either create courses or add components to existing courses. (See a timeline for the grant's implementation at WM Online.)
"We have been talking about Asian Studies for 15 years," Widdows explains. "We formed an Asian Studies interest group more than 10 years ago to consider an area of concentration. We started to assess what faculty resources and interests we had.
"Professor Blix has been a powerhouse in meeting the interests of students in Chinese religion, and more and more students and faculty started coming to us with an interest in China, so we started to seriously look that direction.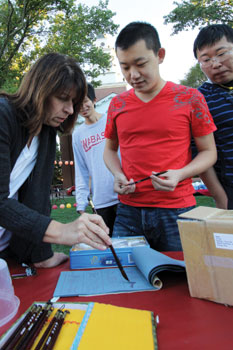 "This is being driven by student interest, as well as faculty interest in developing new areas of research. I've already had three or four students come to my office who want to put together an area of concentration in Asian Studies, and we don't even have these courses yet!"
The most immediate effect of the grant has been the hiring of Professor Qian Zhu Pullen (see sidebar), a specialist in modern Chinese history who will also teach Mandarin.
"The language is the key piece, but that's not the only thing," Widdows explains. "It's not as though we expect to turn out many Chinese majors. What we're interested in is Asian Studies, and the language is a window on that —language is going to open up possibilities for understanding.
"Professor Pullen will anchor the program. An expert not only in the language, but in history and politics, she will be critical in helping us structure the area of concentration. But our other strength will be our interdisciplinary approach: We'll have experts in disciplines throughout the College who will be looking at Asia. China and Asian Studies are not separate things, but a means for us to apply the tools of our disciplines. And courses in Asian Studies won't be compartmentalized in a single department, as you might find at a large university, but they will be peppered throughout the curriculum."
Widdows adds that the new program is not a major.
"All students with an area of concentration [once approved] in Asian Studies will have majors in other disciplines," she explains, noting that a similar model exists in the College's Latin American Studies area of concentration. "We're just opening up more of the world to our students—a part of the world that's incredibly important historically, economically, culturally, and politically. If we don't provide our students with a window into that, we do them a disservice. And in providing it, we are offering an opportunity that I know many will find beyond their imaginations."