Repotted from Fog-moist Hills to Cinder Dust
by Tim Conlon '61
Printer-friendly version | Email this article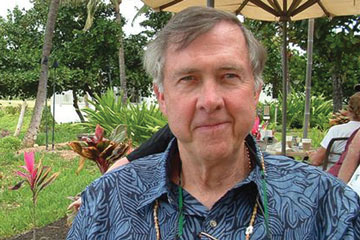 When I was a 26-year-old Naval officer sitting in the exam room at the Oak Knoll Naval Hospital in Oakland, CA, my doctor said matter-of-factly, "You will never leave Oakland and these hills. Your sense of security is here."
And for 37 years I did as Lieutenant Commander Walk, M.D., predicted. I didn't accept even the most attractive job offers, because they meant I would have to leave Oakland. My roots were never planted farther than 20 miles from that battleship-gray hospital tucked in the hills east of San Francisco Bay.
In time I married, and our apartment was in the Montclair region of Oakland—north of the hospital in the same hills. After suffering through the pros and cons of one especially exciting job advance, I turned down the promotion offered by Business Week. Instead, I took a job in public relations—a profession I had belittled—with a company based in Oakland.
We bought our first home in Montclair, two sons and a daughter entered our lives, and my work immersed me in Oakland's politics and neighborhoods. Before I knew it, the children were in Joaquin Miller Elementary School. We purchased our second home, on a hilltop that looked over San Francisco Bay to the Golden Gate. Life's patterns in the 1970s comfortably arranged themselves. I fertilized, pruned, and nurtured these surroundings, so my family's roots went deep amid the redwood and madrone trees that populated our neighborhood. My creative instincts were fortified by knowing that if Joaquin "Poet of the Sierra" Miller had made Oakland his home, this place was good enough for me. The seasonal flow of gray-green fog over our home reassured me I was safe from the unfamiliar.
Yet I never forgot my rejection of being a journalist in New York City, where undoubtedly I could have matured as a reporter and writer.
For the next 20 years I worked with politicians, regulators, and business executives in programs far distant from journalism. Finally, work-induced exhaustion at a company where I was an owner stopped me in my tracks. I downsized myself out of the job and started my own consulting business, which allowed me to better pace myself.
Then one sunny day on Interstate 5, driving to see my son at the University of Oregon, I was unexpectedly transported to the possibility of moving. Family, faith, and a deeper commitment to healthy living—not pharmaceuticals and psychotherapy, which my doctor urged—awakened my dormant spirit. We were approaching the Rogue River when suddenly I felt weightless, open, even daring.
"Let's move to Oregon for a new adventure," I said to my wife. She was, is, and will ever be ready to hop aboard a gypsy's cart and try out the next town. We began to keep our eyes open for such a place.
After our son's graduation, he worked in Portland, and he introduced us to its neighborhoods clustered around NW 23rd Street. Our trips from California became more frequent, and one evening is memorable. The rain began in earnest. We walked from his apartment to a pub-cafe below street level and entered into dark wood, fireplaces aglow, large reading chairs, and the happy clinking of glasses drowned out by University of Oregon football conversation. I said to myself, This is where I belong. It recalled memories of San Francisco 30 years earlier, when cell phones hadn't yet supplanted hushed conversations in smoke-hazed cocktail lounges scattered around Montgomery Street. I rediscovered urban civility in which fellow humans were taking time for conversation, a glass of red wine, and luscious lamb chops.
I began to think more about moving to Oregon. Yet for all its desirable qualities, Portland does lack sunshine and blue skies. My periods of stress and my own remedies taught me that I needed sunshine and a clear depth of vision—to see a horizon, a mountain, or even a butte. A little research led me to Bend, a growing city of 82,000 bordered by National Forest to the west and high desert to the east and named for the redirection of the Deschutes River through its center.
So after one Portland trip, we turned left to the Santiam Pass to see Bend, where I psychologically let go of Oakland and that Navy doctor's words. Ten years after I drove past the Rogue River and saw anew what life could offer, I repotted my Oakland roots in the volcanic soil of central Oregon.
I readily shifted my sense of place in an increasingly chaotic world. From moist eucalyptus trees to gnarled junipers and stiff bitterbrush as soil companions, the repotting has been unexpectedly enthusiastic, never hesitant. I have been nourished by the air, water, and sunlight that Bend uniquely provides.
Other human species have provided their nutrients. My acceptance in a social service agency as a volunteer leader was immediate and loving—no hierarchy here if you have time and experience to offer. Soon I felt the extraordinary spirit within Bend—of neighbors always helping neighbors. Add to that the ski slopes, cycling trails, and white water that call daily to reorient those who take themselves or their work too seriously. The Cascades and its wildlife insist that we're meant to be in a rhythm with nature, even humbled by the beauty around us.
My golf game needs work, but I found a partner who doesn't like to keep score either. We walk, look eastward to the Ochocos mountains from a butte-high green, and share memories of our successes and failures. The openness that lights my spirit is a steady-state feeling, not just a respite as occasionally occurred in California. I took cross-country skiing lessons from a seasoned teacher. Weekly she moved to the back of the class to encourage me—"You really recover quite well from falling down."
I no longer build up mental courage to try something athletic and hope not to look like a fool. Instead, I look forward to the snowdrifts or sand traps shining brightly under the wide, blue skies and mountain air.
Of course, I am more able to expand my spirit because I no longer devote full time to being a business consultant. My time is for me to fill with my curiosities and interests.
Bend is small enough that I encounter the same person two or three times a week. It is large enough to offer nationally prominent heart surgeons and artists who confidently express the pain and joy of life on the high desert. Whether doctor, painter, or tribal chief, the humans rooted in the brown and dusty soil do bloom fully and brightly.
Long views of mountains and friends without agendas affirm that this is where I belong. But for this to happen, I've reexamined what I was doing and why. I live in Bend, but my closest neighbors are ponderosa pines. Our visitors are deer, squirrels, geese, rabbits, coyotes, and, last winter, an elk herd. It is quiet. This is a galaxy away from my consulting days in the heart of the dot.com community. What-ever in the Rogue River valley awakened me to seek this quiet and wholeness is a prescient prophet.
The spiritual dimension of my existence has always been foremost in my thoughts. For four decades I faithfully attended Sunday Mass in California, and as a stranger in Bend I went to the Catholic church to worship and make acquaintances. But halfway into my time in Bend, that Spirit from the Rogue River led me—again blithely—to a Protestant faith community. I have quickened the steps of my spiritual journey, nourished by this church's commitment not to the control that characterized the messages of earlier clergymen, but to love.
Many cultures honor how the desert cleanses the spirit. As America finishes its first decade in the 21st century, much personal and social turmoil darkens our souls. But my roots have tapped into pure aquifers so I can see clearly to the mountain crests. I am washed clean of the inhibitions originally planted in Oakland. Beyond the crests, I also see that Dr. Walk was shortsighted, hampered by fog blocking his view of a place awaiting me here on the Deschutes River.